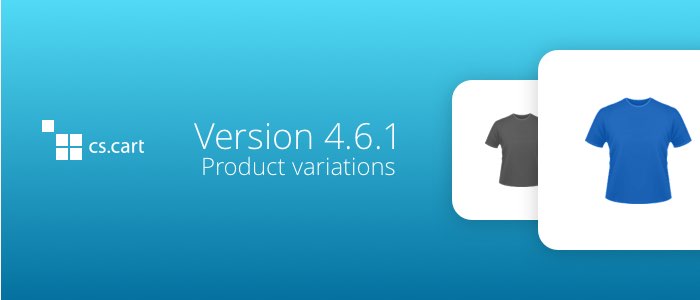 Hello!
We're proudly introducing to you the new big CS-Cart release—CS-Cart 4.6.1.
In this news post, we'd like to focus on the major, strongly requested feature—product variations. Of course, we'll briefly review other new features—version 4.6.1 is rich in new functionality.
What's New?
1. Product variations. In CS-Cart 4.6.1, we're introducing product variations—physical products based on options. A product variation is a better option combination alternative. An admin treats products variations as separate products. For now, this feature is at the beta stage but included in the box.
2. Adding products to an order in the admin panel is now faster thanks to search suggestions. Admins can edit orders on the Orders → Manage orders page: change payment and shipping info, prices, taxes and add more products to orders. We simplified the product addition. To add a product, start typing its name in the search field. You'll get product suggestions.
3. The Phone field to search for orders. To find an order, admins use order search in Orders → View orders. We've added the ability to search for orders by a customer's phone number.
4. Creating the PayPal merchant account in the CS-Cart admin panel. To receive payments from your customers via PayPal, you need a merchant PayPal account. We've added an ability to register a merchant account right from the CS-Cart admin panel. No need to go to the PayPal website for that.
5. Ability to edit robots.txt for each storefront.The robots.txt file contains instructions for search robots. That way you can prevent them from indexing files with sensitive information and exposing that information. CS-Cart allows you to edit instructions for robots in the admin panel in Website → SEO → robots.txt. Previously, you had to enter FTP credentials and edit the actual file, and the instructions from that file applied to all storefronts. Now the instructions are stored in the database and can be different for each storefront.
6. Ability to specify SMTP settings for each storefront. You can define the way CS-Cart sends email messages to customers and admins. One of the options is an external SMTP server. To connect to an SMTP server, you need to enter credentials. In CS-Cart 4.6.1, you can enter different SMTP credentials for different storefronts. Select the storefront at the top right, enter the credentials, and click Save
----
Read the full news post on our blog: http://blog.cs-cart.com/2017/06/27/introducing-cs-cart-4-6-1-with-product-variations/
You're welcome to share your thoughts on the new release here in the comments!