Friends, our Power Blog add-on was updated to version 2.20!
Why You Should Use Blog?
The goal of any blog is to attract new visitors to the site. If you regularly publish content on the blog that meets search queries, then more users visit your site and may become customers.

Power blog allows you to work with a variety of content and publish not only text articles, but also image galleries, videos, posts on places and events tagged on maps.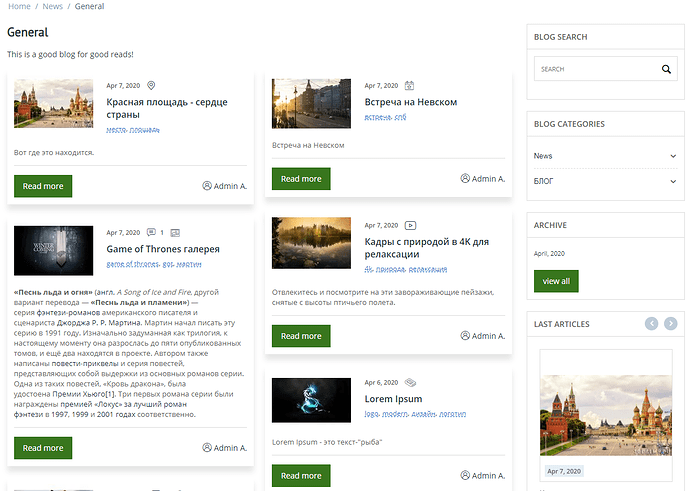 Write useful articles for your store and get additional search traffic. We made sure that your articles appear in search results. You may automatically generate SEO data and include new blog pages into XML sitemap.
Want to save articles from default CS-Cart? Import them into one of Power Blog categories in a few clicks. You don't have to start from scratch!
After attracting a visitor to the site, the work does not end. Our goal is to get a new client (sell a product) or a subscriber (try to sell a product later). Power Blog allows you to do both: attach related products to posts, send articles to subscribers via email.
When there is too much info in the blog, it is crucial that your articles are not lost. For easy navigation Power Blog uses convenient structure with categories and sections, a separate search form and article tags.
Use All Power Blog Features:
Style selection for articles list pages (text list, list with images, various grid styles, scroller);
Sections and categories structure for posts;
Layouts configuration for blog sections display;
Color scheme configuration for separate blog elements: buttons, hyperlinks, background, etc.;
Watermarks support for blog images;
5 article types: text article, image gallery, video, place, and event with map tags;
Ability to display author, article type, short description, views counter, approximate reading time and tags on the article;
Availability periods for articles;
Ability to export RSS feeds to Yandex.Zen, Yandex.News, Yandex.turbo;
Import articles from default CS-Cart blog into Power Blog;
Full integration with default Comments and Reviews add-on for user communication;
Tags for articles;
7 new blocks for blog managing: "Blog Archive Block", "Blog Search Block", "Blog Subscription", "Blog Articles List", "Blog Categories", "Blog Tags", "Filter Articles by Type Block";
Ability to customize the display of blog articles on any store page: product, product categories, vendor articles, or brands page;
Ability to display the "Event" articles in a special block with an indication of the start date;
Display related products at article page;
New article notifications for blog subscribers with the ability to unsubscribe;
Statistics on sending notifications for each article with detailed information about site visits they generate;
Separate section for blog categories in the Sitemap HTML;
Articles and blog categories are included to Google Sitemap XML automatically (integration with the built-in CS-Cart "Google Sitemap" add-on);
AB: Advanced sitemap supported. 
Auto generating meta data and meta key words for every category and article;
Integrated Rich snippets and FB Open Graph markups;
Build in search by blog;
The SEO is optimized, there are several SEO URL options for blog articles and blog categories. Ability to edit the meta description, meta keywords, page titles, H2 and H3 for every category and article manually;
Integration with the CP: SEO templates add-on - generation of SEO data for blog articles and blog categories by template;
Ability to limit access to publishing articles for vendors depending on the vendor plan  in Multi-Vendor;
Vendor article moderation by admin;
Ability to create and configure separate blogs for each storefront in Ultimate editions;
Support:
Learn more in documentation.
Need modifications or any assistance? Please, feel free to contact us via HelpDesk system.
Upgrades:
6 months of free upgrade period included.
Compatibility:
- CS-Cart and Multi-Vendor versions 4.10.x - 4.15.x
- Works correctly with the popular themes YOUPI and UniTheme.
Buy Power Blog add-on now.
Try free demo.
Перейти в обсуждение модуля на форуме на русском языке.
Please let us know if you have any questions.
Best regards,
Cart-Power