Dear Friends,
The Google AMP for SEO (Accelerated Mobile Pages) add-on allows to create mobile optimized content for the product details pages. Thanks to the add-on, it takes just a couple of clicks to make your website go mobile and improve mobile performance.
What is AMP? AMP is a Google-backed project, which aims to speed up the delivery of content through the use of stripped down code known as AMP HTML. Read more about AMP here.
The Google AMP for SEO add-on creates special lightweight versions of your product pages so that your store is loaded faster and instantly on phones and tablets. Your customers will get instant access to your products while you will focus on the business process.
Using the add-on you will:
- Boost your SEO and get more traffic from Google;
- Accelerate your website on mobile devices;
- Provide a hassle free surfing process;
- Lower bounce rate thanks to improved user experience.
How it works? Once the add-on is installed and activated, AMP HTML is automatically applied to all products in your store. This can't be easier.
Also please check the validation of URL. Insert a product link at https://validator.ampproject.org/ and click on VALIDATE to ensure there are no issues.
Key features:
- AMP compatible product details pages;
- Faster loading speed on mobile;
- Custom AMP design with no coding;
- AMP stamps on mobile search;
- Automatically optimized content.
What your customers will see:
AMP stamps on mobile search
Sites that use AMP will be marked with a little lightning ball in search results:
Mobile Layout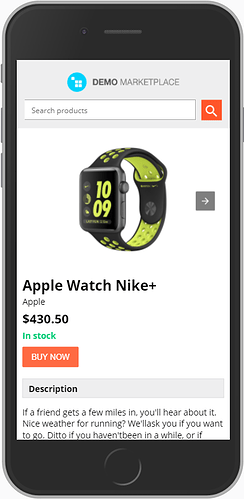 Tablet Layout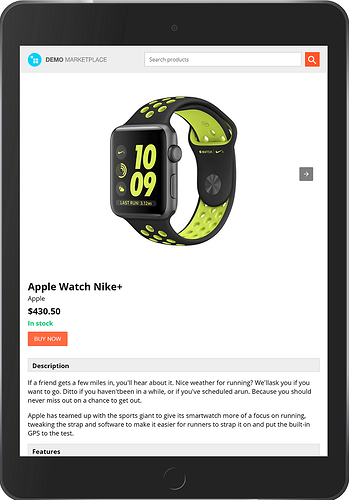 Compatibility
The add-on is compatible with CS-Cart and Multi-Vendor 4.4.1 and above. Need compatibility with another version? Contact us.
User Guide
Learn more about the add-on in the User Guide.
I will be glad to answer all your questions about the add-on.
P.S. Do not forget to join us on Facebook to be the first to know about great solutions for your store!