We are happy to introduce you to the most effective and crucial marketing solution for all CS-Cart store owners —
the Affiliate add-on
.
The CS-Cart Affiliate add-on allows you to organize regular advertising campaigns that will help promote your products or services round the clock. The main idea of the Affiliate add-on is that it allows you to build a team of sales agents who advertise your products with their users. You don't have to pay them anything until they make a profit for you.
With such well-organized affiliate program, you can gain increased traffic and sales, generate qualified leads, automatically promote your business and get better rankings.
Grow your affiliates tier tree
The system is based on multi-level marketing technologies.In other words, the affiliates already existing in the store can invite other affiliates and get commissions for the actions of the invited affiliates.
Share a referral link to any page
Promoting products to new customers through referrals became easier with a refferal link, which the affiliate will find on his account page.
The affiliate will earn a referral fee each time a user goes through your affiliate referral link and makes a purchase.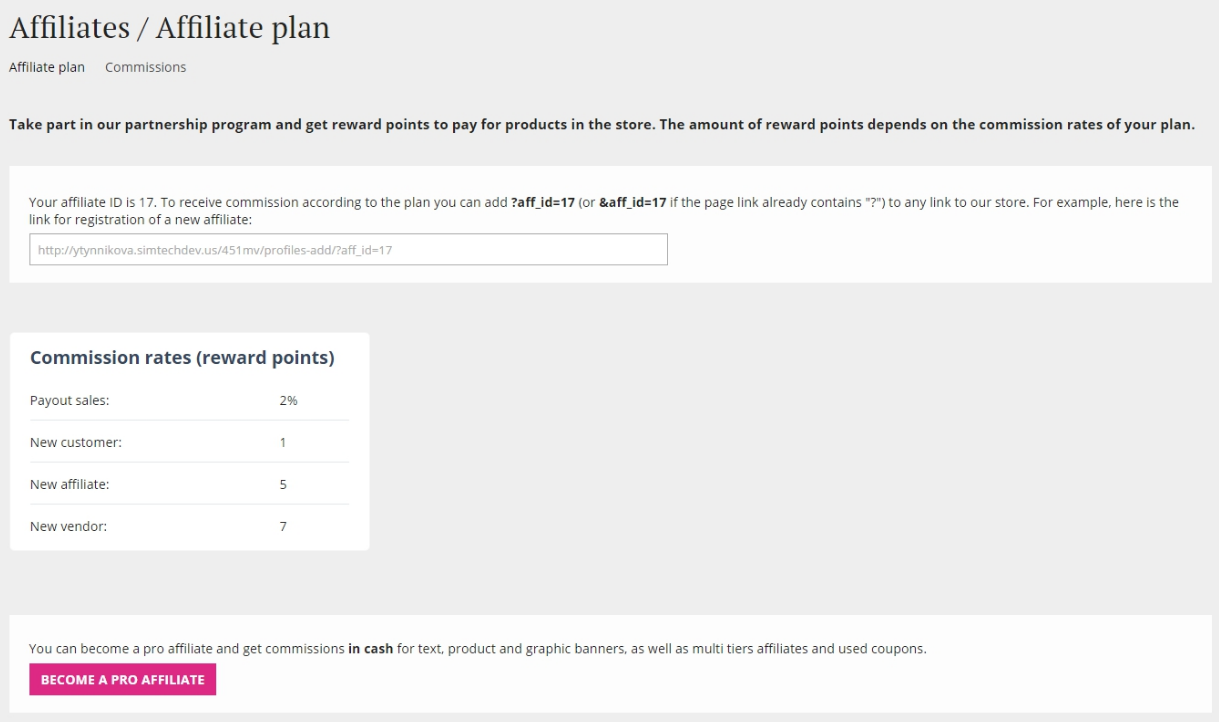 Create different types of affiliates plans
Do you want to run different programs with different commission rates, based on customers or product groups? It's easy.
The store administrator can create a lot of various plans with specifying individual payout amounts for each of them. So, a personal plan can be set for each individual affiliate.
Know everything about your sales reps
Affiliate add-on offers you full control of referrals.Going to each account detailed page, you can easily change information as you wish. It is also simple to view information of affiliates such as: personal information, status, affiliate code, plan, account balance, payouts, commissions.
What the affiliates will see? On the Affiliate's plan page they will see the information about their commissions, account balance, affiliate plan with the personal affiliate ID.
Create catchy banners to attract customers
One of the most popular ways to advertise a store using affiliates is banners.
The Affiliate add-on
allows to create
text banners, graphic banners
and
product banners
.
After the affiliates logged in they can easily access banners and links you provided. They can use the source code to post in their websites.
Approve commissions and track statistics of each partner
This convenient tool allows the store administrator to monitor all the actions from the part of his/her affiliates. After he/she approves the commissions, they will become available to him/her on the "Pay affiliates" page.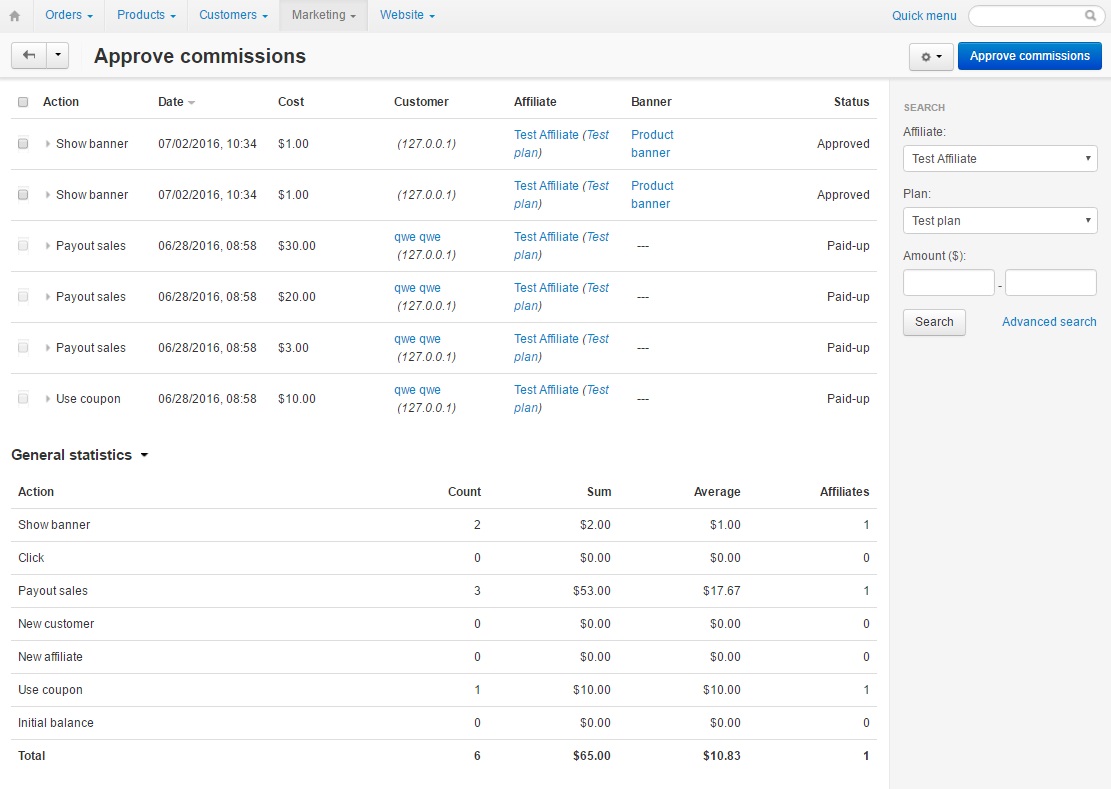 Pay affiliates — they deserve it
On this page, the administrator can view actions of the affiliates in general and the corresponding bonuses that should be paid to the affiliates.
You can read more about this powerful add-on in our User Guide
It is produced and maintained by a group of professional CS-Cart developers and is continuously improved with new features. We are keen on our customer's feedback for further improvements.
Please, if you have any ideas on how to improve the product functionality, do not hesitate to email us at sales@simtechdev.com.