Hello. As you know, the default administration panel in CS-Cart and Multi-Vendor isn't responsive. Its size on a mobile device is the same as on a desktop, so you have to scroll the page not only vertically, but also horizontally. That is very inconvenient, so we have developed a responsive administration panel and we'd love to hear your opinions about it. We are planning to develop it further and to eventually make it default for CS-Cart and Multi-Vendor.

The responsive admin panel is now available at the Marketplace as a separate add-on. Please note that if you have third-party add-ons that modify the Administration panel, you may have to adapt those add-ons, so that they support the new responsive design. We are already working on an instruction for developers. Once the instruction is tested, we'll publish it in our documentation and let you know here.

In the meantime, if you're hesitant to install a Beta add-on in your store, you're welcome to try the responsive admin panel on http://dev.demo.cs-cart.com/admin.php:

1. Go to Add-ons → Manage add-ons.

2. Switch to the Browse all available add-ons tab.

3. Find the Responsive Admin Panel [Beta] add-on and click Install.

4. Change the status of the add-on to Active after the installation.

After that the look of your admin panel will change, and you'll be able to make use of its responsive design.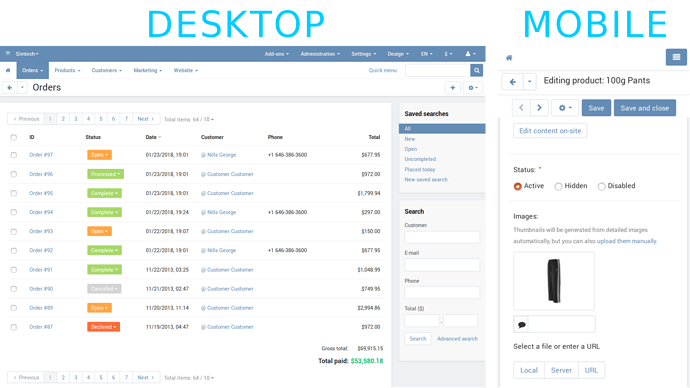 The best part is that the responsive admin panel is backward-compatible: the technologies behind it haven't changed. Everything is where it was in the old admin panel; we only adjusted the styles and added some wrappers to HTML tables. When we were developing the new admin panel, we also tested it with a few third-party add-ons, and they worked fine.
Now is the best time to make any changes, so please try the responsive admin panel and let us know what you think. Do you find it convenient on mobile devices? What can we improve?
We're looking forward to your feedback in this topic.