Dear Friends,
We have developed Cute Baby Toys Theme is primarily intended for selling toys, clothes and accessorizes for kids and other products for happy moms, dads and their children. Simple design elements focus your customers' attention on goods and make online-shopping enjoyable.
Screen of the main page
The skin has 3 main colors: blue, marine and pink. These colors make your store attractive and nice looking.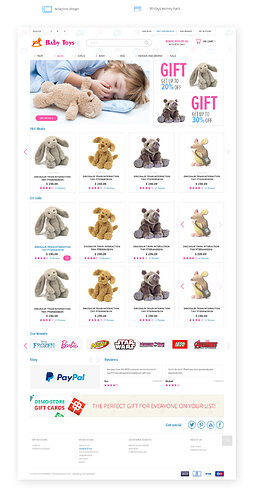 UI Elements
Fresh interface elements make positive engagement with customers.

User Guide
Learn more about the add-on in the User Guide.
Compatibility
The add-on is compatible with CS-Cart and Multi-Vendor 4.3.1 and above. Need compatibility with another CS-Cart version? Contact us.
I will be glad to answer all your questions about the theme.
P.S. Join us on Facebook to have a chance to be the first to know about free solutions for your store and information about special promotions and discount promo codes.