Dear Friends,
Airy Mobile Theme - universal premium template for CS-Cart or Multi-Vendor stores, which is great for large inventories. Even if you have a wide range of products from clothing to kitchen appliances, this is the theme that meets all your requirements. It:
- suits any business (food, tools, appliances, clothing, shoes, goods for tourism, and much more). It's minimalist style will be the right look-and-feel for your large inventory;
- has a large number of trendy features (like Amazon style and hamburger menu) and includes all the main killer features of online mega malls;
- adapts to any screen resolution to provide a hassle free surfing process on any device.
This is a perfect theme to mobilize your business. Being a mobile-first theme, Airy Mobile ensures your site loads faster and convert more on mobile devices. Two-column mobile layout allows you to demonstrate more products and increase the possibility of purchasing.
Desktop
Mobile
Key Features:
- Fully responsive and 100% adaptive
- Promotion-focused banners
- Frontpage slideshow
- Advanced quick view
- Count down timer for products
- Persistent cart
- One-page checkout
- Enhanced social login
- Wish list
- Product comparison table
- Product image zoom
- Different product filters
- Product showcase
- Quick Add-to-Cart
- Multi-tiered mega menu
Optimized for:
- Marketplaces
- Wholesale
- Large Catalog
- Sales & Discounts
- Multi-Purpose
- Mobile, Tablet, and Desktop
Conversion tools on product listing pages
- Discount rate is shown in the top right corner;
- Product rating is displayed if the product was reviewed;
- Count down timer for special offers;
- Quick view and list price;
- Ability to view all product images right on the category or home page;
- Ability to add the product to wish list, comparison list, and cart on the category or home page (without the necessity to do to the product page).
Category sidebar area
Display category images in the sidebar of your store's home to make it simple for your customers to navigate. The search option makes it even simpler to find the necessary product in a couple of clicks.
Authorization sidebar gives the maximum usability for mobile devices.
Product page was worked out to provide a good conversion and usability. Large, high-quality images utilize a hover zoom tool, providing the shopper with a more detailed view of the product. A very good content layout allows to catch sight of all the information interesting to customers just in seconds.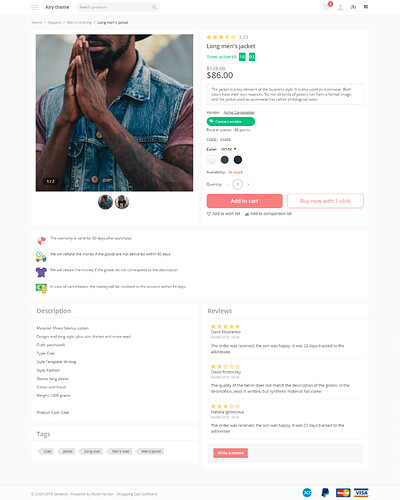 Product images on mobile devices are big enough picture for your customers to assess the product. If they like it, they can easily add it to cart with one click. Add-To-Cart button is always under their thumb.
Multi-level Amazon-style menu
Feature a multi-level Amazon-style menu to help customers easily navigate your store.
Promotional banner
Promote your latest sale, promotion, or discount at the top of your store's home page.
Product image zoom
Give customers a closer look and extra product details when they hover over an image.
Featured collections on home page
Display multiple featured collections on your home page.
Product image rollover
Reveal different product images when you hover over products on your home and collection pages.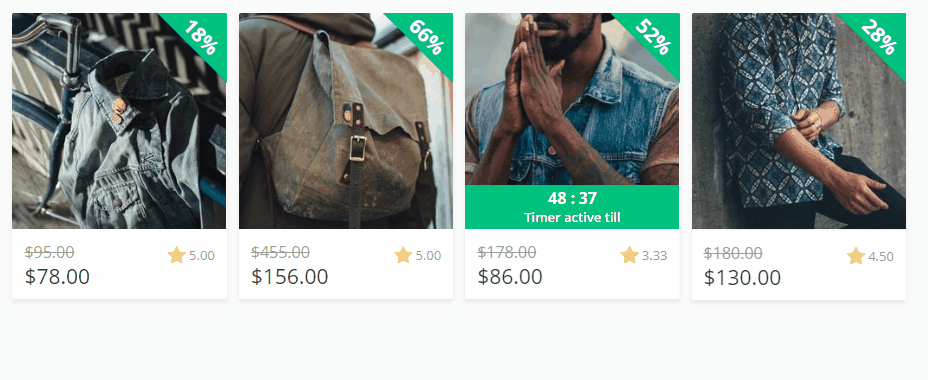 Compatibility
The theme is compatible with CS-Cart and Multi-Vendor 4.4.1 and above. Need compatibility with another CS-Cart version? Contact us.
I will be glad to answer all your questions about the theme.
P.S. Join us on Facebook to have a chance to be the first to know about best solutions for your store and information about special promotions and discount promo codes.