Hi, guys!
Finally decide to ask for help. Yes I know - the particular issue in one or another way has been discussed here. Due to the time restrictions and my very limited coding experience I can't solve this problem fast enough on my own. The issue is with Comodo secure site seal and Authorize Net seal + their alignment. Sure thing - by simply adding a separate block to the main template with supplied code and my very basic CSS understanding doesn't help.
Both seals/logos are rendered "outside" the Grid 9 block. It renders like this:
This is the desired look: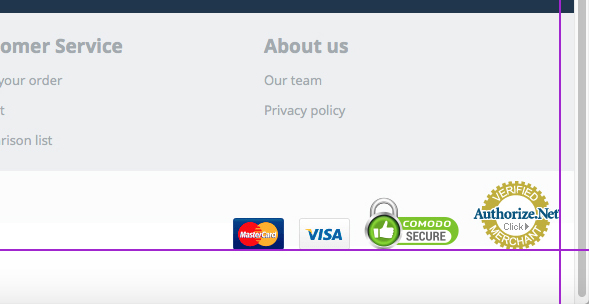 + the logos (incl payment systems) are aligned to the "bottom"
Comodo (seal/logo)code:
(Add this before your tag:)
(Add this before your tag")
<a href="<a data-ipb='nomediaparse' href='https://ssl.comodo.com'>https://ssl.comodo.com"id="comodoTL">Comodo SSL
AUTHORIZEnet (seal/logo) code:
What should be done to solve this problem "the right way"?
Thanks!
Austris
CS-Cart version: 4.6.3
Responsive theme: Modern