I've spent hours creating the damn dependencies lists.



First of all there's nowhere in the docs, that you must create locations BESIDES localizations in order to select them in the shipping methods.



a) There's a bug with the euro sign. It shows as € inside the input box in the cost dependencies and cannot be deleted, hope it doesn't create any issues.





Second, you cannot input halves in the weight dependencies. Why not? There are significant differences in shipping costs for half a kilo, please implement this.



c) Last and the most important. I mean wtf bug is this?



In order to test weight dependencies, I put a product with a weight of 1 unit (1kg). I put 1 item, gives me correct cost, I put 2 items I get correct cost, in 3 items, I get FREE SHIPPING! LOL… then I check the shipping methods box and here is what I see: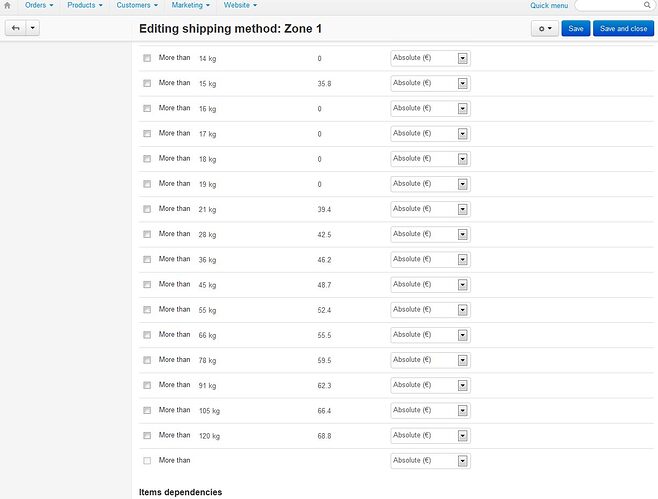 First, I put up to 20kgs. It seems to have added its own values, and zero-ed my previous values for some cases. Have no idea why this happened, but I know for a fact I have to write them again. And this happens for other shipping methods as well.
WTF! What's causing this? Anyone with similar issues? I need to get this damn eshop online and I keep stumbling on damn BUGS.
I mean for God's shake, fix these things. I am expecting a full answer by a dev here confirming this, why it happens and how to fix this.