How to improve more traffic for the website...........?
Please pay attention to these add-ons:
Facebook Pixel - helps to create campaigns for Facebook and track conversions
Google Remarketing Tag - allows you to reach past visitors of your site or online store, showing them a tailored message after they leave your site
Google Tag Manager - lets you add new tags, edit or remove marketing and measurement tags any time within seconds
How to improve more traffic for the website...........?
Well, one of the most important things is speed (on both mobile and desktop), this mainly due to the change in the google search engine A.I. a while ago. Furthermore you can also think about the following:
1. As boring as it sounds, original content.
2. Make your website as user friendly as possible.
3. Make sure that you have an SSL certificate (as said, google changed the search engine A.I. which causes you to be ranked lower if you do not have an SSL certificate installed).
4. Do not use a lot of requests. On mobile devices internet speed is fairly good nowadays but they take longer to process a lot of requests, therefore I'd advise not to use too many requests, 70 / 80 is a lot already, though I have seen stores with over 200 requests!
5. Do not invest into things like wordstream. This may sound a bit counter productive but sites like wordstream only copy the google adwords layout and put their own layout on top of it.
6. Read some articles about SEO, http://www.oncrawl.com/wp-content/uploads/2015/10/Moz-The-Beginners-Guide-To-SEO.pdf
7. Keep updating your content. Google will know if you are not active on your site, it wants you to have relevant information, not outdated!
Best wishes,
FYI, most SEO addons have close to no effect on your sales, but do mind that this could greatly vary on your current situation.
want to improve more traffic for website then best thing is social media which brings more traffic
Ive been researching "SEO addons" . I know there is much more to SEO than just metatags etc.
As I understand it, for the addons, I mostly need to just Auto-generate metatags, title, image alt/titles etc, minor stuff that is laborious, but needs to be dealt with nonetheless. This is to make listing products/pages, faster easier, taking care of that side of things.
Then I can spend more time focusing on getting the important stuff right, the things that have the most influence on page ranking, as per comments above by poppedweb, and more.
Would that be a fair statement?
1.The number one SEO factor is satisfaction.Reduce the effect of pogosticking.Google hates pogo sticking more than a high bounce rate
2.Optimize your content.
3.Use short URLs.
4.Social advertising works.
5.Focus on both on page as well as off page SEO.
6.Guest posting
7.Create viral infographics.
and many more techniques are there.
The most important thing is unique contents, i have some exlusive articles for 1 month and my DA and PA have risen up to 3 ranks and drive traffic to my site. Beside i also use share button on social media to attract visitors. Hope that help :)
Social Media Traffic is the easiest way to bring people to the website. Share your post in Facebook, Twitter and Pinterest board.
The another way is to bring traffic from Search engine. For this you have to make most unique content and start building backlinks.
You know how to bring more traffic, but do you know how to motivate your customers to buy? One of the solutions is stimulating customer interest and urgency.
With our Sales & Social Proof add-on your customers will see notifications of:
- recent sales of a product;
- low stock availability;
- other customers looking at this product.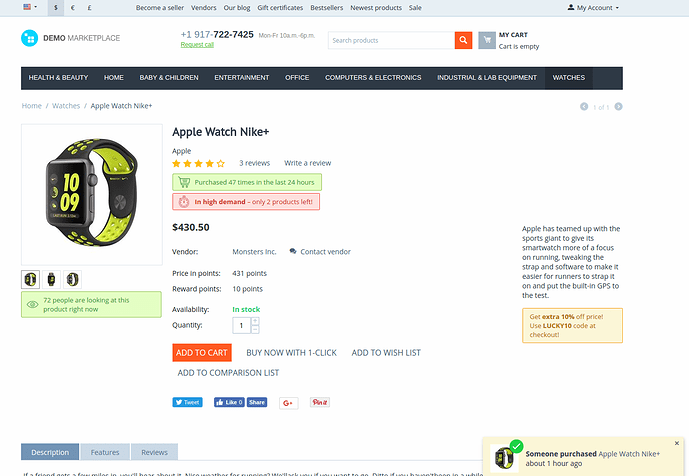 Use unique content for your website
Make attractive headline for website
Use targeted longtail keywords
Pay attention on your on-page SEO
Use guest blogging
1. optimize your content with keywords
2. Create targeted landing pages
3. Creating high quality content
4. Use digital ads to promote your site
5. Get more backlinks from trusted sources
6. Engage your audience on social media
Run paid ad campaigns.
Engage on social media.
Hire influencers.
Use content marketing.
Apply SEO strategies.