I want to know how CS-Cart handles eCheck payments. What is the status after an eCheck payment is made through PayPal Express? Is it pending or processed?



Does CS-Cart automatically update the order status when the eCheck clears?



I'm using the sandbox to test but I'm never given the option to send an eCheck as a form of payment.



PayPal is telling me that the only way a buyer can send an eCheck payment is if they do not have a credit card linked to their PayPal account and if their PayPal account balance is not sufficient to cover the transaction amount.



So I zeroed the PayPal account balance of my sandbox buyer account and removed the credit card. Then I placed a CS-Cart order. When I get to PayPal, the payment options I have are:

[list]

[]Link a new debit or credit card

[]Add money from your bank account (not instant)

[/list]

When I select Add money from your bank account, the image below depicts the result: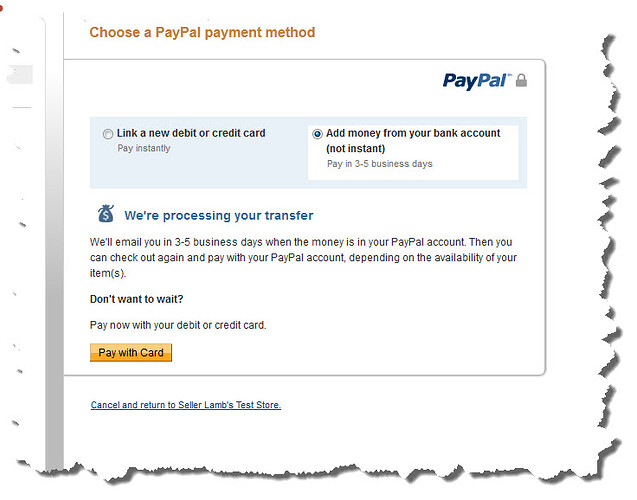 The only two options are to add a credit card or cancel the transaction and wait till the money is in the BUYERS account before attempting to purchase. I'm never given the opportunity to use an eCheck.
I checked my sandbox seller account and it is NOT setup to block eCheck payments.
Since I cannot test, I don't know how CS-Cart handles eChecks through PayPal Express.
Can someone verify what the order status is when someone pays with an eCheck when using PayPal Express? Will the order status automatically update when the eCheck clears? I don't see how since IPN is not used.
Thanks,
Jeff