We are using cs-cart 4. How do we disable new user creation except on checkout?
Thanks,
Chris Edwards
Greetgins, offline!
As far as we know, this will require a modification.
If you will not find a ready solution, you can send your request to us at sales@cart-power.com and we will estimate the modification.
Best regards,
Cart-Power
There is also this setting "Administrator must activate new user accounts" in store settings. So that customers can create accounts, but until you activate them, they won't be able to use them.
Best regards,
Robert
You can simply remove the My account block from the top of the page. Or override it with the My changes module to remove Sign in and Register buttons
We are trying to stop a bot from registering hundreds of accounts. I am sure they have the direct url to the register page.
Won't do, we still want people to be able to purchase from our store without us having to "activate" their accounts. Thanks for the idea.
I have reCAPTCHA on, doesnt stop them.
Can you please check if it really works in your installation? Does the reCAPTCHA anti-bot validation field appear on the registration form (if reCAPTCHA V2 is selected)?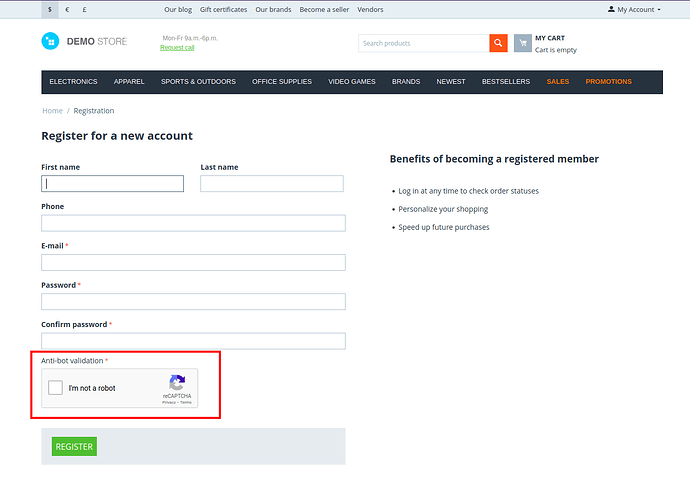 Yes the recaptcha code appears on my site and functions properly.
If bots are able to pass the reCAPTCHA, they may be not bots after all

If you can share the address of your store, I can check if registration really require captcha to be passed.
Thank you for the link!
I was unable to register without passing the captcha, so either there are some super advanced bots that are now able to pass the Google reCAPTCHA, or there are real people behind these registrations.
Did anybody find the correct solution?
I just disabled the cart from sending registration emails and they seem to have gone away. Im sure the registration email was tied with some non-legit hackery email. Not really sure.