Dear Friends!

Please, welcome new add-on for re-design of Storefront product details page - Parameter (options) Variants Table.

Using this add-on you can replace usual options with special table that displays all available options, option combinations and their inventory.

The most important functionality is opportunity to add products to the cart by typing the necessary number in the table column and automatic recalculate of the product inventory.

Pay attention! The Parameter (options) Variants Table add-on is not compatible with the Product variations add-on.


General Features:
ability to choose options for creating table;
ability to add option images to the table;
ability to choose the default setting for options table;
ability to specify setting for each option table;
information about number of available products displayed;
automatic recalculation of number of products in stock;
ability to create table based on options or option combination;
fully responsive table with configurable height;
opprtunity to enable/disable image column;
automatically hidden options with zero inventory;
no additional pages in administration panel;
add-on is fully compatible with the UniTheme.
Add-on settings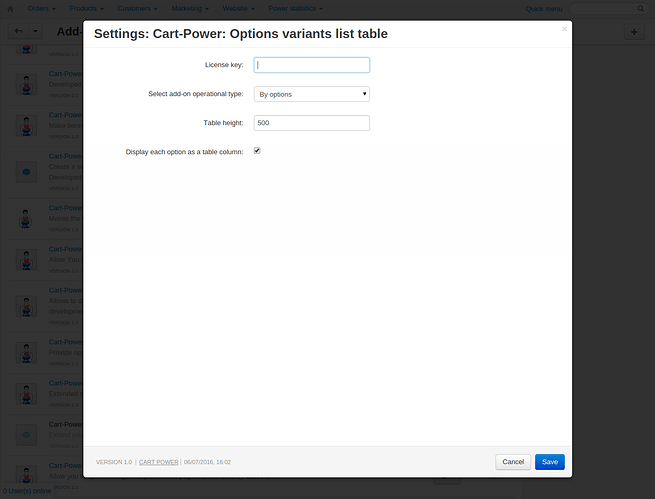 Option settings
Product table settings
Table in the storefront
Parameter table with the Big picture template
Demo:Compatibility:
CS-Cart and Multi-Vendor 4.2.x - 4.15.x
Official add-on page
If you have any questions feel free to
contact us
Best regards,Cart-Power