Dear friends!

We are glad to introduce you our new add-on called One Step Checkout add-on.

One Step Checkout add-on is used to change the appearance of the checkout page. The location of blocks in one or two columns, a fast authorization form, auto-filling of addresses using Yandex and Google services, a checkout form in one click, etc. The cost of delivery is recalculated automatically when the user's data is changed.

General features:
enables an opportunity to turn on/off the add-on functionality for each storefront separately in multi-storefronts installation;
allows you to configure checkout page;
displays the full block content on the checkout page without additional clicks;
automatically recalculates the cost of delivery when data is changed;
enables the fast authorization;
fast checkout in one form;
enables address auto filling based on Google and Yandex geocoding system.
The add-on settings:
Checkout on Storefront: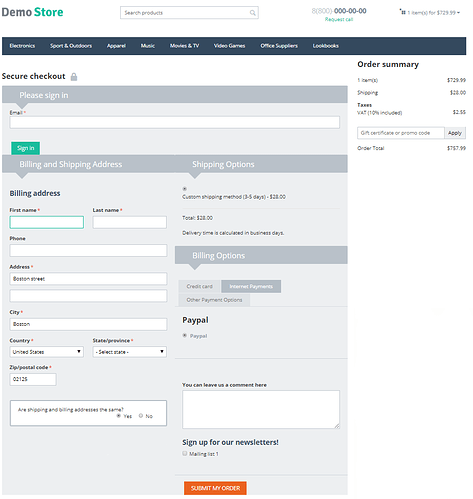 Checkout in Admin panel:
Compatibility:
- CS-Cart and Multi-Vendor 4.5.x, 4.4.x, 4.3.x. and 4.2.x.
Demo:
Official product page.

Посмотреть обсуждение модуля на форуме CS-Cart на русском языке

Feel free to contact us if you have any questions.