Dear friends!
Please welcome our Dynamic Categories add-on!
What are the Advantages of This Add-on?
Dynamically Generated Categories Content
You get new categories of products which monitor the new arrivals, discounts or the popularity of some products. For these categories, you can add a description and configure the display of additional content in the category: images and descriptions of categories / brands for products that fall into the category. A good alternative to the default pages of new products, discounts and bestsellers.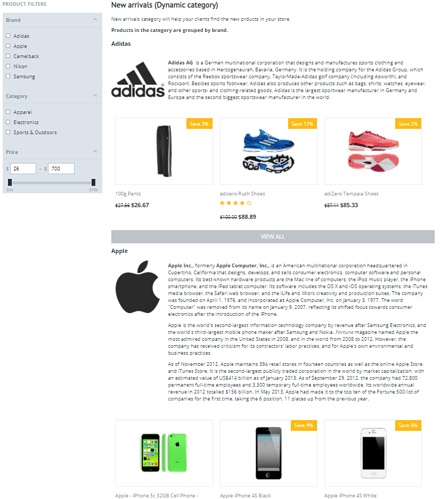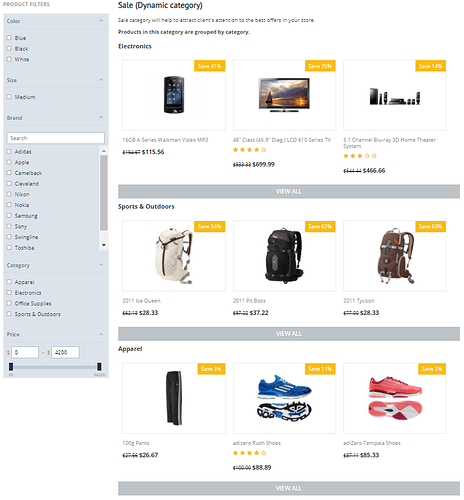 Improves the Site Navigation
Simplifies the client's search for the most interesting offers, new and popular products. A filter is available on the category page. You can configure the display of a list of products in a category in the most convenient way - place a block with a list of groups or group products according to their category or brand. It will be useful for the buyer and he will look through all your offers.
Add-on features:
- Ability to create three types of dynamic categories: Sales, New Arrivals and Bestsellers.
- Configurable conditions for adding products to dynamic categories: the number of days from the product's appearance (New Arrivals), the number of units sold (Bestsellers).
- 3 ways to display the list of products: with grouping of products by brands, by categories, or without grouping (by default).
- The ability to display a special block of brands or categories above the list of products.
- The ability to exclude product categories from a special category block on the page of any dynamic category.
- Ability to limit the number of products before the "Show more" button for the grouped view.
- Updating the list of products in dynamic categories automatically using the CRON command.
- Ability to update products Manually in each dynamic category.
Support
Learn more in add-on documentation.
Need modifications or any assistance? Please, feel free to contact us via HelpDesk system.
Upgrades
6 months of the free upgrade period included.
Works correctly with the popular themes YOUPI and UniTheme.
Перейти в обсуждение модуля на форуме на русском языке
Best regards,
Cart-Power