Dear CS-Cart Users,

Pay attention to our new add-on for CS-Cart - "Product Page PDF".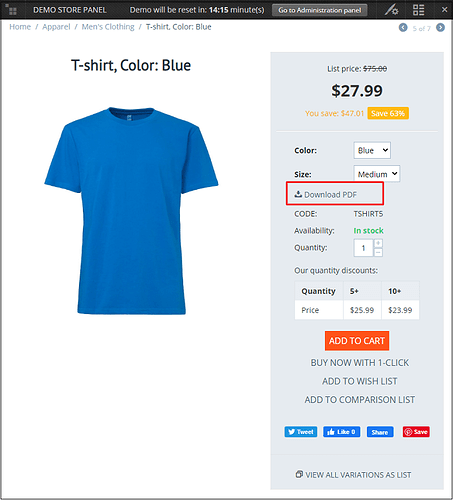 Price is USD 49.
UPDATE December 2022
.
This module adds a print-out functionality to a standard CS-Cart product page. It's a useful feature when your customers need to save the product information in attractive and user-friendly way.
Features
1. A link to such URL is placed near the product characteristics on the product page.
2. The PDF version of the product page contains the following content:
Website Logo
Product Image
Product Name
Product Price
Product Description
Product Features
The link to the online store
Compatibility:
This add-on works correctly in Internet Explorer, Mozilla Firefox, Safari, Google Chrome and Opera latest browser versions.
The add-on is compatible with CS-Cart, Ultimate, MultiVendor editions (versions 4.x.x.)
It's compatible with all standard CS-Cart themes and with themes: UniTheme and YoupiTheme.
Contact us if you have any questions.
Best regards,
Alt-team.