Good afternoon!
We are glad to present to your attention, especially to the owners of our addons and those who are interested -
Add-ons Manager from cs-commerce.com
. The add-on is free, and at the same time offers some unique features, which we will discuss below.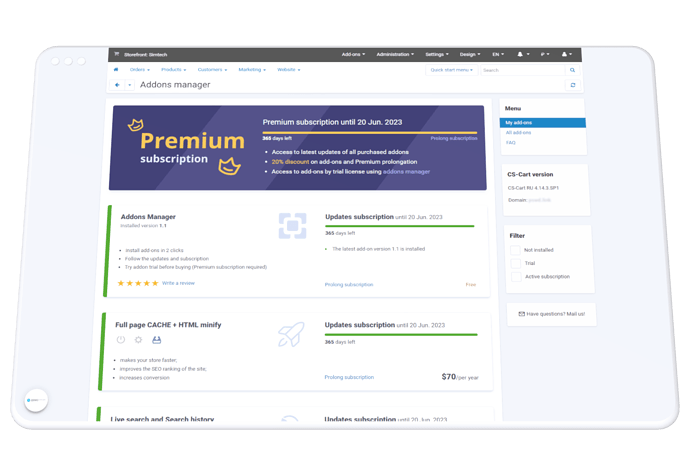 With
add-ons manager
you no longer need to download bought add-ons from our website to install them, just click install button on the add-ons manager and the most actual add-on version will be automatically downloaded from our server and installed.
You will be aware of the release of new versions of add-ons, you will be able to check actuality of installed add-ons and monitor their updates subscription.
These two solutions are intertwined in their capabilities and part of the functionality of the add-ons manager depends of the Premium subscription.
Premium Subscription is an exclusive package with unlimited access to add-ons updates and permanent discount on purchase new add-ons!
Access to the latest updates of all purchased add-ons. You no need to renew the subscription of each add-on separately.
20% discount on new add-ons purchase, as well as on the renewal of the Premium subscription itself.
Access to exclusive promotions for Premium members only.
The ability to install a trial version of the add-ons before buying it. This feature is provided through Add-ons Manager (details below).
Now that you know more about the Premium subscription, let's go back to our Add-ons Manager:
The add-ons manager has a section "All add-ons", which allows you to get a summary of all the solutions we have developed and their cost. For ease view, there is a filter by headings and sorting. And in this section for Premium subscribers there is an exclusive function - install any add-on by trial license before purchasing it! Just find the add-on you are interested in and click install the trial version. Add-on will be automatically downloaded from our server and installed with a trial license. When trial will be expired, customer can buy license if add-on fit, or disable it.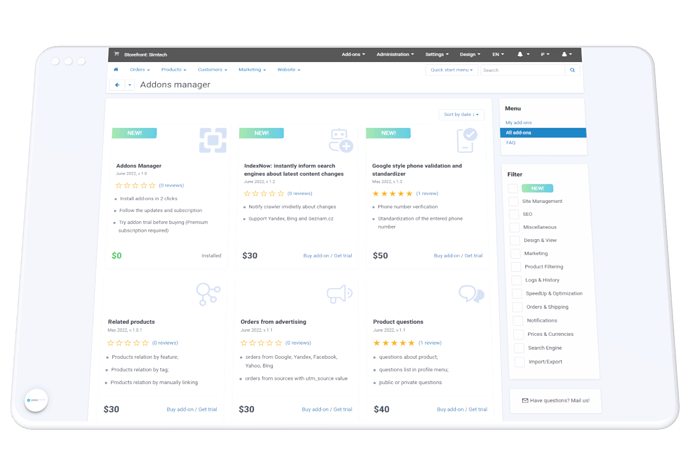 Also, add-on includes an additional FAQ section, which contains popular questions with answers, and this section will be updated periodically.
Please, if you have any questions, suggestions, or you find a bug, write to us in the comments, or private messages.