Extension to CS-Cart and Multi-Vendor allows integration with Baselinker system. Add-on fully integrates CS-Cart/Multi-Vendor ensuring data exchange about orders and products. Add-on is also compatible with InPost / ShipX integration and Elektroniczny Nadawca Poczta Polska.
We start from installing an extension:
Here we set access data in Baselinker system. Key has to be obtained from field "Communication password" in Baselinker configuration and typed in the same field in add-on configuration. After saving, we have to copy connection link (red) and paste it into field "Data exchange file" field:
Next tab defines information about products:
Here we define parameters of orders exchange from CS-Cart to Baselinker:
Order synchronization between Baselinker and CS-Cart/Multi-Vendoris configured here: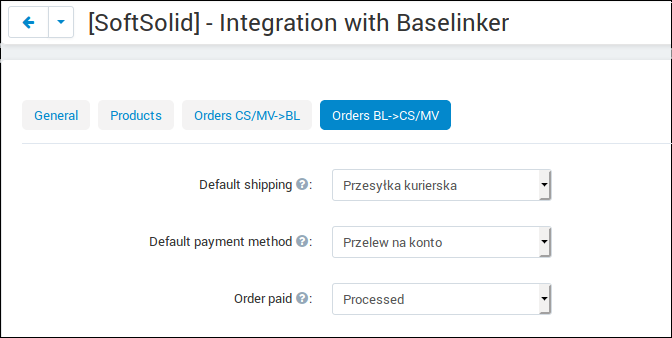 Add-on is compatible with multiple storefronts (CS-Cart Ultimate) and multiple vendors (Multi-Vendor). Each vendor/storefront can communicate with different assigned Baselinker account.
Features:
no core file changes
compatibility with 4.0.x, 4.1.x, 4.2.x, 4.3.x, 4.4.x, 4.5.x, 4.6.x, 4.7.x, 4.8.x, 4.9.x, 4.10.x
compatibility with old & new checkout

Please, do not hesitate contact us if you have any additional questions.
Link to addon
See our other addons in Marketplace.