Hello Friends,
We have developed add-on for
CS-Cart SalesforceIQ Connector
. This impressive extension integrates CS-Cart with SalesforceIQ, a CRM platform that makes enterprise-level intelligence affordable for growing businesses. It is the next generation extension revamping the features of eCommerce and SalesforceIQ platform . This connector lets you get new marketing prospects into your sales team's hands instantly. By pulling CS-Cart user's information into your SalesforceIQ list, you'll arm your sales teams to qualify prospects faster and smarter than ever before.
Demo & User Guide :
Compatibility :
The add-on is compatible with CS-Cart and Multi-Vendor 4.3.x,4.4.x . Need compatibility with another CS-Cart version?
Contact us
.
Features :
-> Is acting as bridge between CS-Cart and SalesforceIQ .
-> Provides real-time synchronisation of users.
-> Provides synchronisation of users in lists at SalesforceIQ end.
-> Automatically captures your interactions with customers, and analyses it to improve your relationships.
-> Interactive design with brilliant user experience .
-> Any number of users can be imported from CS-Cart to SalesforceIQ .
-> Boost revenue of online marketers .
-> Easy to use and manage at admin end.
CONFIGURATION:
Once the API keys are saved, Select the SalesforceIQ Account to synchronize the contact details of users at CS-Cart end and click on Save button to save the settings as shown below.
ADMIN END VIEW:
How to Export/ Sync contacts :
How to merge the contacts in desired SalesforceIQ List :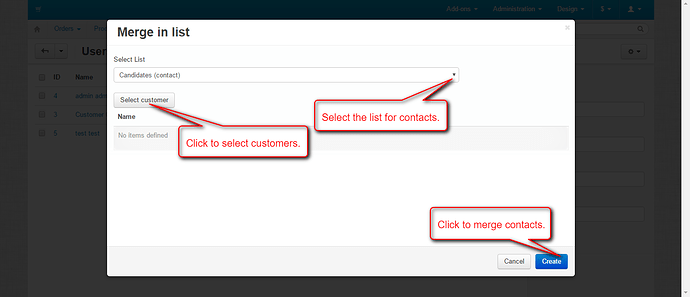 How to Reset contacts :
VIEW AT SALESFORCEIQ END:
Login to your SalesforceIQ account and click on Contacts as shown below. Here you can view CS-Cart synchronized contacts.
View of synchronised contacts in account based list selected at eCommerce end.

View of synchronised contacts in contact based list selected at eCommerce end.

We would be happy for any comment and suggestion.
Thank You
Regards,
Webkul