Dear Friends,
A module for stores that require a confirmation of the availability of items in the order before the customer's payment.
In the module settings, you will only need to specify which payment methods require confirmation.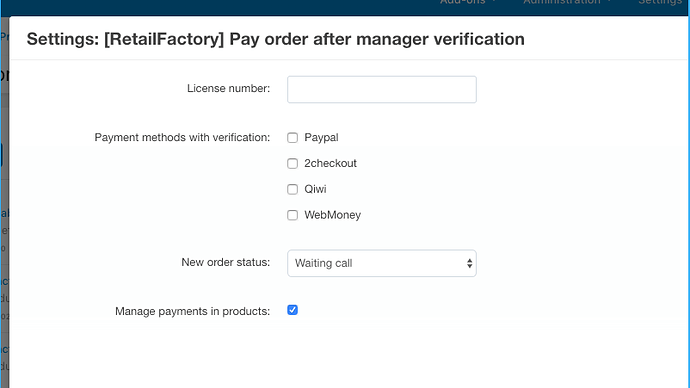 If you choose this payment method, the customer will not be able to pay for the order initially.
He/she will see a Thank you for purchasing page, which will indicate that the order requires confirmation.
The order status will be automatically changed to the one you need, which can be set in the module settings (for example, Order Confirmation Is Required).
Next, as soon as you confirm the order, simply change the status to Waiting for Payment, and the customer will be able to pay for the order.
For this status, be sure to specify the possibility of payment after confirmation.
If only some of the products require confirmation, the module has an option To enable setting in products.
If you have enabled this option, the field [RetailFactory] The confirmation of the order is required of the products will be checked. In the admin panel of the store, a search for the products with this option will be available.
Orders that have such products will also be paid after confirmation by your manager.
You can also manage payment methods that will be visible to the customer on the re-payment page.
You can leave only the selected items or the one that has been initially selected by the customer.
The module generates a payment link. Copy and send it to the customers so they don't have to worry about remembering the password.
And for unregistered users - the MUSTHAVE feature!
Let us know if you have any additional questions or suggestions.