Dear Friends,
We have developed Vendor Business Hours add-on that allows you to set the dates and time when the vendor's store is open and hide their products when their store is closed.
Key Features

— Better customer experience - your customers do not wonder anymore why they have not had an answer from a vendor for a long time.

— If a customer follows a link to open the product page of a vendor that is not working at the moment, the product will be shown, but the purchase will be unavailable.

— More freedom for your vendors. They can temporarily hide their products from the storefront and search results.

— The Back-End Calendar allows the vendor to determine the dates and time when their merchandise is not available in the frontend.

— Hide merchandise for a certain period.

— Unlimited vacation option.

— More flexibility for you. Working days and days off of your vendors are available on the vendors page.

— The admin gets a notification when a vendor is on vacation if the "Notify admin" checkbox is selected.

— The admin gets a notification when the vendor is back from vacation and the products become available on the storefront again.
What you will see
The Back-End Calendar
What the customer will see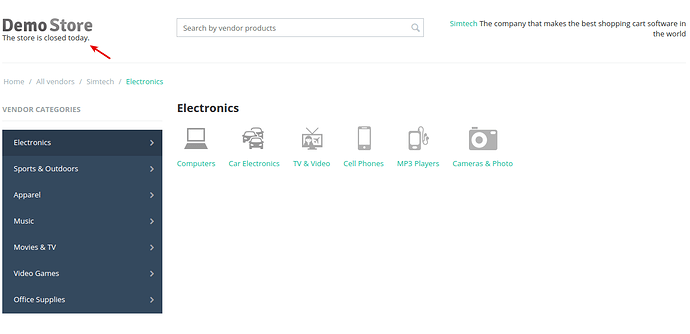 User Guide
Learn more about the add-on in the User Guide.
Compatibility
The add-on is compatible with CS-Cart and Multi-Vendor 4.3.6 and above. Need compatibility with another CS-Cart version? Contact us.
I will be glad to answer all your questions about the add-on.
P.S. Join us on Facebook to have a chance to be the first to know about free solutions for your store and information about special promotions and discount promo codes.