Dear Friends,
We have developed the Shipment Export add-on that allows you to select orders and export them in the CSV format.
Shipment addresses may differ for the products within the same order. Sometimes it results in an incorrect shipment. To reduce the risk to zero, you can export all the shipments to a CSV file and look through the addresses. You can also print out the shipments for the warehouse staff or the courier service.
The following fields are available for the CSV export: item ID, shipment number, shipping method, tracking number, carrier, date, comments, status, order number, product, amount, client's first and last name, billing and shipment details columns.
What you will see
The CSV file

The shipment export page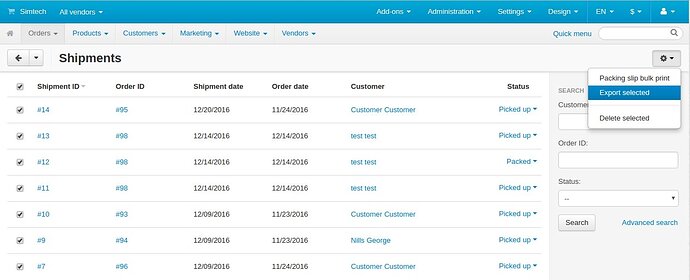 Compatibility
The add-on is compatible with CS-Cart and Multi-Vendor 4.3.1 and above. Need compatibility with another CS-Cart version? Contact us.
I will be glad to answer all your questions about the add-on.