Dear Friends,
We have developed the PostNL add-on that allows you to send your parcels with PostNL, the leader in parcel shipment in the Netherlands. Get shipping rates, create shipping labels and track the packages.
The add-on allows you to create the PostNL shipping method in your store. Normal Delivery offered by PostNL will be available for your customers.
Key features
- Shipping cost calculation based on data in Shipping charges table.
- Manually filled in Shipping charges table.
- Label generation via SOAP request.
- Packing slip in PDF format or screen display.
- Direct link to the PostNL tracking page.
What you will see in the admin area
List of shipping methods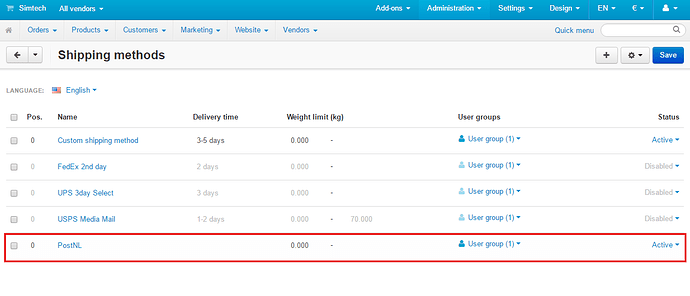 The PostNL shipping method settings
User Guide
Learn more about the add-on in the User Guide.
Compatibility
The add-on is compatible with CS-Cart and Multi-Vendor 4.3.1 and above. Need compatibility with another CS-Cart version? Contact us.
I will be glad to answer all your questions about the add-on.
P.S. Do not forget to join us on Facebook to be the first to know about great solutions for your store!