Dear Friends,
The Master Products add-on allows you to share the product base among multiple vendors. There is no more need to care for the store content (e.g. tracking the product descriptions), no need to pre-moderate vendor changes. The product name and description are unique and added by the admin, whereas price and quantity vary from vendor to vendor.
When the product base is shared, each vendor can select the products to sell. They define their own prices and quantity. That's it, they are ready to sell.
When a product is sold by several vendors, customers can see a comparison table on the product details page. They can compare the prices and available quantity to decide which vendor to choose.
Key Features
- Easy and fast selection of products by vendors;
- Single product base for all vendors;
- No need in pre-moderation of vendor data;
- Informative table with the available prices and quantity;
- Ability to set the quantity in the table and proceed to checkout at once.
What your customers will see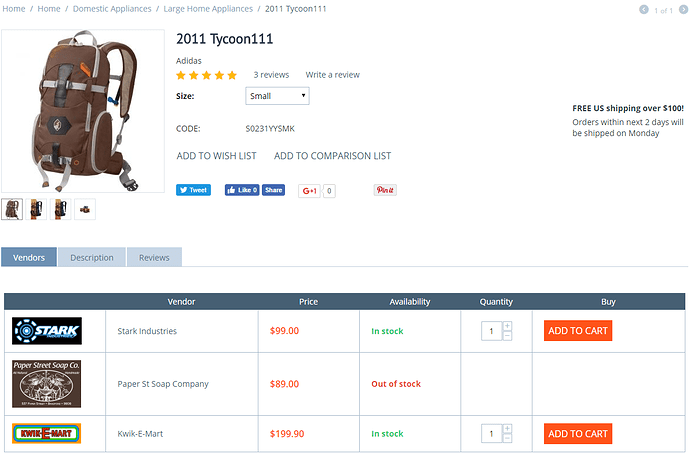 What your vendors will see
Compatibility
The add-on is compatible with Multi-Vendor 4.3.1 and above. Need compatibility with another CS-Cart version? Contact us.
I will be glad to answer all your questions about the add-on.
P.S. Do not forget to join us on Facebook to be the first to know about great solutions for your store!