Dear Friends,
We have developed the Hamburger Menu add-on that allows to replace a CS-Cart menu bar with a simple drop-down hamburger menu. It is a three-lined icon hiding the navigation menu.
This is especially applicable to mobile devices where the Hamburger menu helps to keep the design clean and functional.
The hamburger menu may include:
- Main menu;
- Quick links;
- Footer items (e.g. blog, reviews, about us, sitemap);
- Footer items of create orders (e.g. delivery and payment, returns).
You can adapt the hamburger menu to your current design or create a unique menu design with the following style options:
- Left or right menu position;
- Small or big menu size;
- Left or right close button position;
- Overlay option and it direction (from left to right, from right to left);
- Button background color;
- Menu background color;
- Color for first level menu items;
- Color for second and third level menu items;
- Colors for 'Show more' link on second level.
Key features
- User-friendly navigation with a sidebar menu;
- Easy creation via blocks;
- Flexible layout settings;
- Different content for the menu;
- Ability to combine a traditional menu bar and a hamburger menu.
What your customers will see
Hamburger menu for the catalog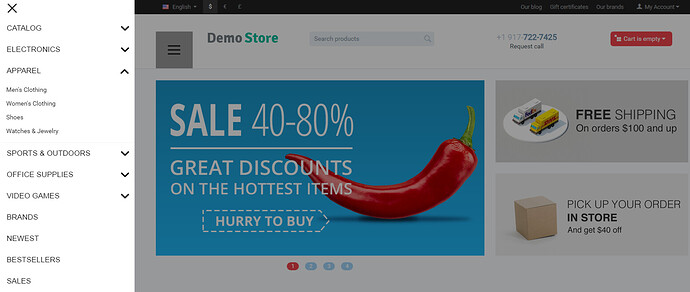 Hamburger menu with quick links
What you will see in the admin panel
Layout settings for the Hamburger menu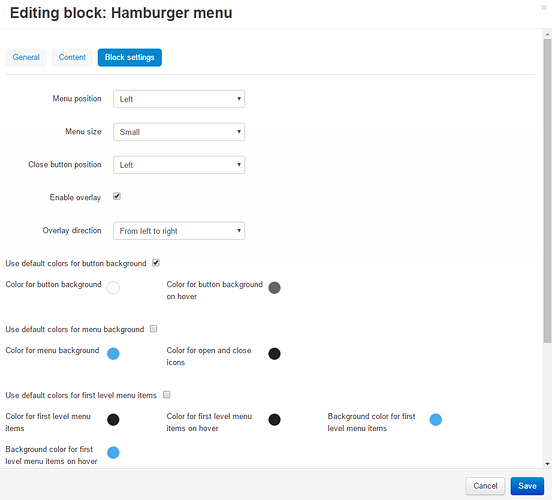 User Guide
Learn more about the add-on in the User Guide.
Compatibility
The add-on is compatible with CS-Cart and Multi-Vendor 4.3.1 and above. Need compatibility with another CS-Cart version? Contact us.
I will be glad to answer all your questions about the add-on.
P.S. Do not forget to join us on Facebook to be the first to know about great solutions for your store!