Dear Friends,
Do you want to attract more potential buyers to your store? Our Cart Sharing add-on gives you such opportunity.
The CS-Cart Cart Sharing add-on allows your customers to share the shopping cart link via messages or post it in social networks, so their friends can view the same cart and buy the products without taking extra actions.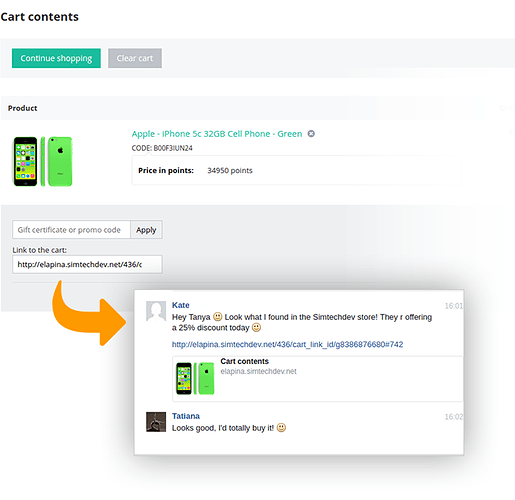 After your customers added products to cart they go to the "Cart" and see "Link to the cart" below the list of cart contents. They copy it and share with friends, relatives via an email, message or even post it on Facebook, Twitter, etc.
When your customers share that link, anyone who clicks on the link will start out with a shopping cart ready for purchase or checkout page, depending on what setting you chose.
User Guide
Learn more about the add-on in the User Guide.
Compatibility
The add-on is compatible with CS-Cart and Multi-Vendor 4.3.6 and above.
I will be glad to answer all your questions about the add-on.
P.S. Do not forget to join us on Facebook to be the first to know about free solutions for your store!