Hello!
We have integrated the AsiaPay Payment Gateway add-on which supports many payment methods, including VISA, MasterCard, American Express, JCB, Diners Club Card, PPS, China UnionPay, AliPay, 99Bill, TenPay, PayPal and other Asia debit payments. Its payment solutions, PayDollar, PesoPay and SiamPay are multi-currency, multi-lingual, multi-card, and multi-channel.
AsiaPay benefits
— Allows your customers to pay via AsiaPay payment gateway.
— Integrates your store with PesoPay PayGate, SiamPay PayGate, and PayDollar PayGate.
— Accepts main credit cards worldwide: Visa, MasterCard, American Express, JCB, etc.
— Accepts popular credit cards in Asia: China UnionPay, UPOP, Fuiou etc.
— Secure and quick payment transactions.
— Stores the user's data (Name of the cardholder and the CVV-code), so the user should fill in less number of fields.
— Supports 12 countries including Asia including: Hong Kong, China, India, Indonesia, Malaysia, Singapore, Philippines, Taiwan, Thailand and Vietnam.
How it works
Once you have installed the add-on you need to create a new payment gateway. For this purpose go to Administration → Payment methods page.
In the Configure tab, the store administrator should enter the data of their payment account: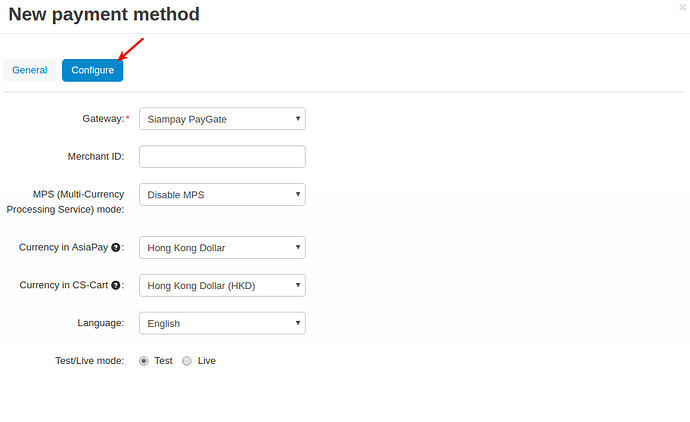 Select the gateway for the payment method: PesoPay, SiamPay, or PayDollar PayGate. You will find the Merchant ID in your PesoPay/SiamPay/PayDollar account.
Your customers will be redirected to the website of the payment method (PayDollar, PesoPay, or SiamPay) where they should fill in the card information.
User Guide
Learn more about the add-on in the User Guide.
Compatibility
The add-on is compatible with CS-Cart and Multi-Vendor 4.0.1 and above.
I will be glad to answer all your questions about the add-on.
P.S. Join us on Facebook to have a chance to be the first to know about free solutions for your store and information about special promotions and discount promo codes.