Dear Friends,
We have developed Apple and Google Pay add-on that allows you to accept credit card and Paypal payments using Braintree in your CS-Cart store.
Braintree payment gateway is one of the easiest ways to accept online payments from customers. Your clients will be pleased with this easy payment and safe transactions.
For Multi-Vendor platform we have created a Braintree Marketplace add-on, which allows to automate revenue splitting and refund processing.
Key Features

— Ability to accept payments using Braintree payment system.

— Through Braintree you are able to accept all Major Credit Cards / Debit Cards – Visa, MasterCard, American Express, Discover, Diner's Club, JCB.

— Ability to accept Paypal payments.

— Advanced features give proven data protection to keep the business safe and secure.

— Easy-to-understand payment processing allows your customers to make orders within seconds.

To learn more about Braintree payment visit https://www.braintreepayments.com.
How it works
Payment settings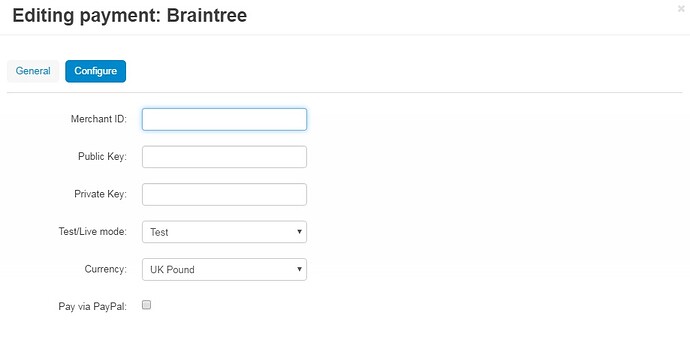 Once you've set up the Braintree payment gateway in the store, it will get available to your customers. So the customer adds products to cart and proceeds to checkout. At the Billing Options step, they will see the Braintree payment method available. You can add your logo to make it more visual for customers.
To pay for the order via Braintree, the customer should enter the credit card details. See the screenshot below.
Compatibility
The add-on is compatible with CS-Cart and Multi-Vendor 4.3.5 and above. Need compatibility with another CS-Cart version? Contact us.
I will be glad to answer all your questions about the add-on.
P.S. Join us on Facebook to have a chance to be the first to know about free solutions for your store and information about special promotions and discount promo codes.