https://marketplace.cs-cart.com/google-merchant-for-cs-cart.html
https://www.proinvent.in/add-ons/google-merchant-for-cs-cart/
Being on the Google Shopping platform is the best way to reach more potential customers around the world. Cs-Cart Google Merchant add-on helps you get your items on to search results by automatically generating listings from your product list to Google merchant Product. Entire work is done via a API no need to to Download or upload any file.
With this handy tool, you will be able to promote your business more efficiently while saving time.
Some of the Best features of the addon are
-- You can any time Enable/Disable Products for Google Merchant
-- When the Product is Our of Stock, It is Auto Disabled from Google Merchant, Saving you Money
-- On Update of Product Details, new Details are Update on Google Merchant
-- If you are using Multivendor, you can set maximum product a vendor can enable for Google merchant
Benefits

Make your items available on Google Shopping to reach more people
Get noticed by your potential customers and drive incoming traffic
Boost your sales and grow revenue
Save time by auto-adding products to your google merchant account
Features
Promote your products on Google Shopping with no hassle
With the Google Merchant add-on, you can select products from your store to add to your google merchant.
After Installation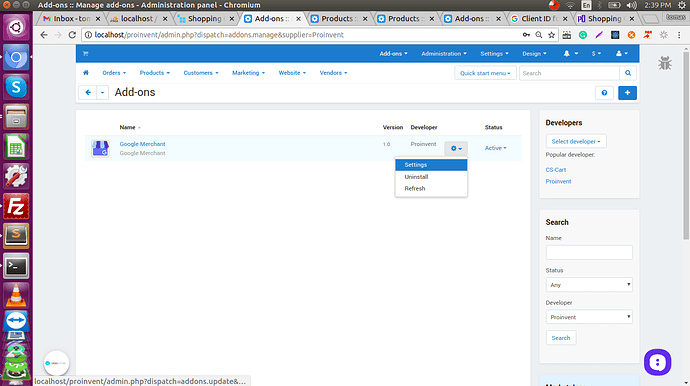 Update your Google Credentials
You can Limit the Products to be Send to Google merchant, Activate or disabled Google merchant
This Addon Also Allows to Add individual or Remove Products from Google merchant with single click
Finally Products are Synced with Google merchant, It shows Update or Added in last 24 hours.