Dear Community Members,
This addon provides a most useful and trending payment feature for your CS-Cart store user in the form of a built-in wallet system of the store. this addon provides a wallet to every user of the store in which they can add money/cash in their wallet and use that wallet money/cash to check out their orders, also this addon provide a functionality credit cash/amount manually into the user's wallet in the form of reward cash.in case if any of the orders has not been completed due to the order failed or declined the deducted amount will be automatically added into the particular user's wallet.
The addon provides functionality to both user and store admin to view wallet transactions details.
Features:
New features added in Addon Version-2.0
-Feature to search orders which paid by the wallet in advance search.
-Feature to enable/disable wallet recharge for the user from settings.
-Feature to set minimum and maximum wallet recharge amount.
-Feature to allow payment method when recharging the wallet.
-Feature to Allow admin to restrict the user's to access the wallet according to user groups.
-Feature to Enable/Disable Auto Refund of Orders which Paid By Wallet.
-Feature to select a payment method on which wallet refund allows.
-Feature to show Refund by Wallet button will be visible on the orders paid by the selected payment method.Feature to set order status which will be automatically changed as new order status after a successful refund.
Features in Addon Version-1.0
-Easily integrate with CS-Cart, CS-Cart Multivendor, CS-Cart Multivendor Ultimate.
-Users/Customers can recharge their wallets anytime very easily.
-Customers/users can use their wallet cash/amount for checkout of any products.
-Admin can manually credit/debit amounts/cash into the user wallet.
-Declined/Failed orders deducted the amount from users wallet will automatically credit back into users wallet.
-Support online and offline payment methods for wallet recharge.
-For every wallet transaction, individual users will be notified via mail.
-Admin can check all user's wallet transaction details.
-Users can also see their wallet transaction details.
-Feature of exporting wallet transaction details into excel sheet from the backend.
ScreenShots:
Addon Settings: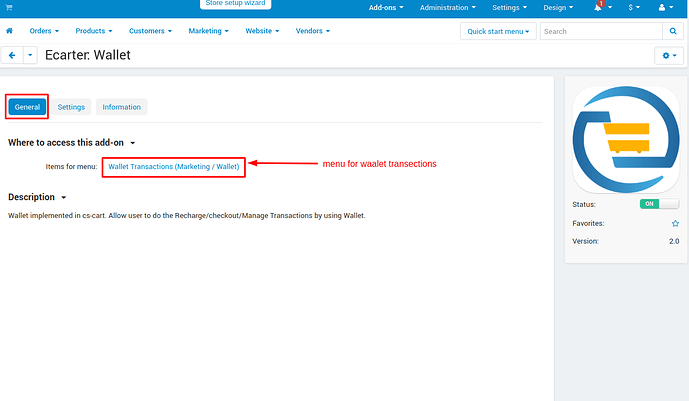 Wallet Management Settings (this feature is added in Addon Version-2.0):
Wallet Refund Settings (this feature is added in Addon Version-2.0):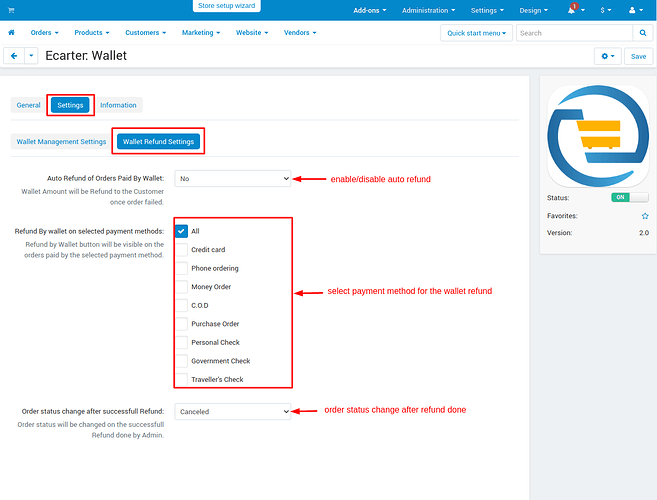 Managing Wallet Transaction from backend: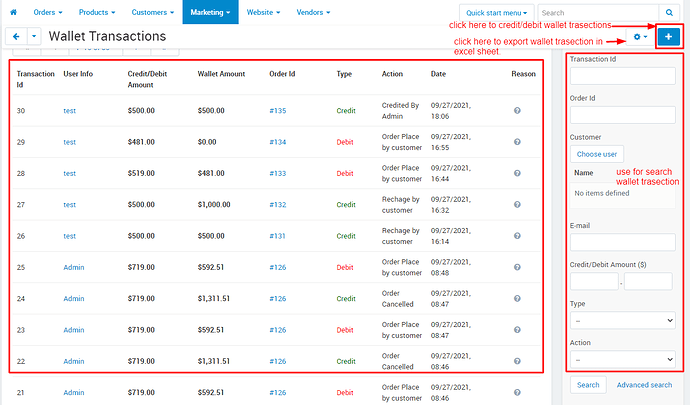 Manually Credit/Debit into user wallet from admin panel: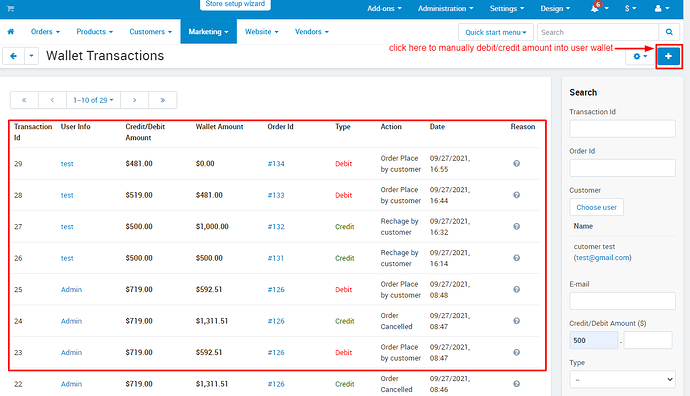 Where to see wallet from frontend: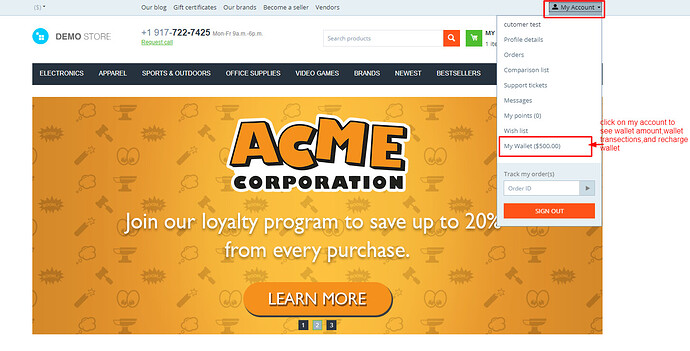 Complete checkout process for recharge wallet: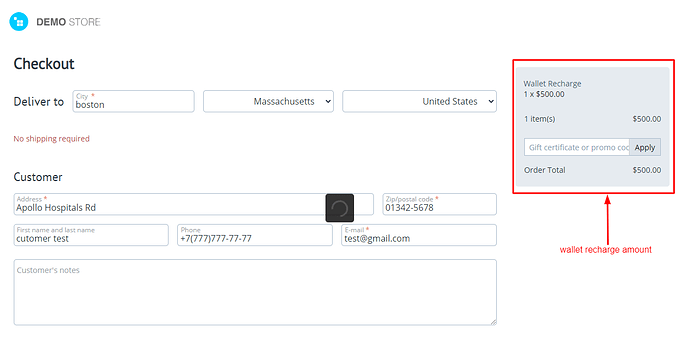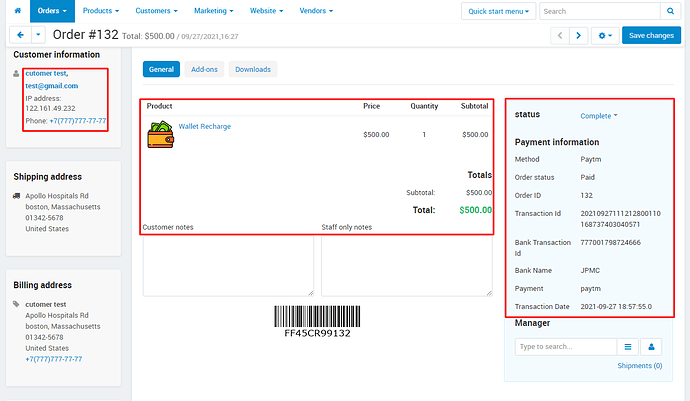 Checkout product through wallet:
Applied Wallet amount for this order:
Wallet transaction for this order:
User Guide:
Learn more about CS-Cart Wallet System Addon .​
Buy:
To buy this addon please visit at our store.
Compatibility:
CS-Cart, CS-Cart Multivendor,4.7.x, 4.8.x, 4.9.x,4.10.x,4.11.x,4.12.x,4.13.x,4.14x
Support:
This addon is developed and published by Ecarter Technologies Pvt. Ltd., a CS-Cart developer. You are guaranteed a quality add-on supported by future versions. If you need help, please contact us via email support@ecarter.co
Need modifications or any assistance? Please, feel free to contact us via HelpDesk system or email at support@ecarter.co