Hello Friends,
We are introducing a simple and significant add-on Advanced Vendor List for your Multi-vendor store. This splendid add-on provides the enhanced view of vendor directory at your storefront ie; vendor names sorted alphabetically. The add-on also allows you to display the vendors selling in particular category. There is a separate list of all the categories, subcategories and the number of vendors selling products in each category. So, beautify the look and feel of your storefront by installing this simple addon.
Feature:
-> Well integrated with CS-Cart Multi-vendor.
-> Provides a list of vendor/company name sorted alphabetically on the vendor menu in the quick links.
-> Functionality to show the vendors' name selling in any particular category.
-> Functionality to display the count of vendors selling in particular category or subcategory.
-> Admin has an option to display the vendors in particular category with no product listed at the backend.
-> Functionality to set the maximum number of subcategories/vendors to be displayed by default.
-> Option to compress or expand the subcategory list and vendor directory.
Addon Compatibility:
Compatible with CS-Cart and Multivendor 4.4.x, 4.5.x, 4.6.x
Vendor list page/ Vendor Directory :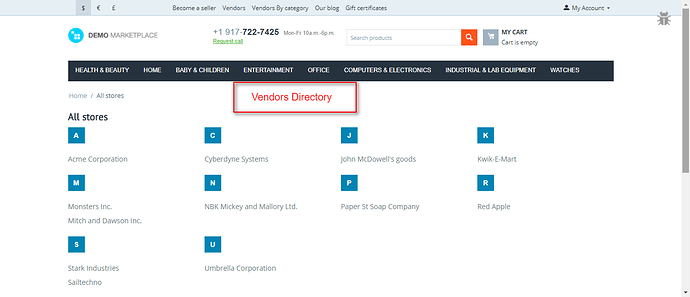 Vendor list selling in particular category :
A separate menu needs to be added to view the vendor's list on the basis of category.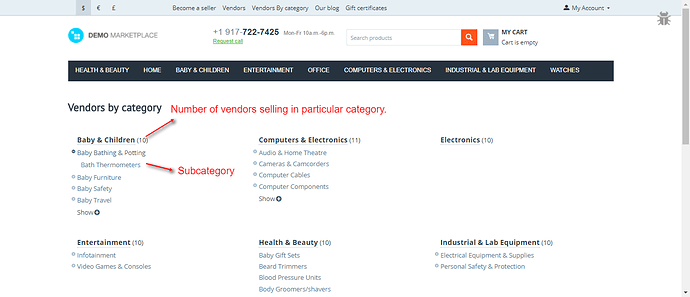 Vendors in the selected category.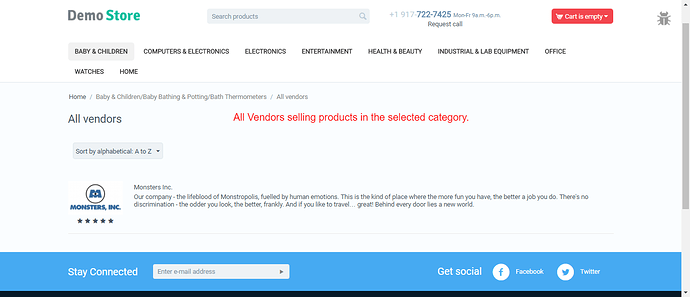 We would be happy with any further comment and suggestion.
Thank You!