Dear Friends,



[size=5]We are glad to announce a new 2LM Customer's Consents add-on for CS-Cart v4.x releases.[/size]



[center][size=5]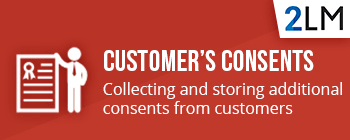 [/size][/center]





In the process of placing orders, customers are often obligated to read and accept not only the usual web store terms and conditions, but also other terms required by law. Additional consents may be required for example for: acquiring and processing of personal data, uploading photos, subscribing to mailing lists or providing any further data to the web store.



Our add-on is designed to obtain any additional consents from your customers in specific phases of buying process. It is a complete solution, that allows you to define the content of consents, their location, obtain consents from customers and display them in the admin area. You can define as many terms that need customer's approval as you want using dedicated administration panel accessible via Marketing menu.





Links:



View add-on on CS-Cart Marketplace

View and buy add-on on 2LM Store web site

View DEMO storefront

View admin area of DEMO store



Please also visit our web site, where you can find more useful CS-Cart add-ons by 2LM.



Let us know if you have any additional questions.