We have launched the Loyalty Program for users of Simtech Development add-ons. All shoppers in our Add-on Store automatically become members of the program. It includes four statuses with different rewards, and extra privileges.
Rewards are based on different levels of spending. For example, once your spendings on our add-ons for CS-Cart and Multi-Vendor platforms reach USD 100, you get a Pro status with 20% discount on our add-ons. The higher your status, the greater your benefits.
Here are the available statuses and the related bonuses: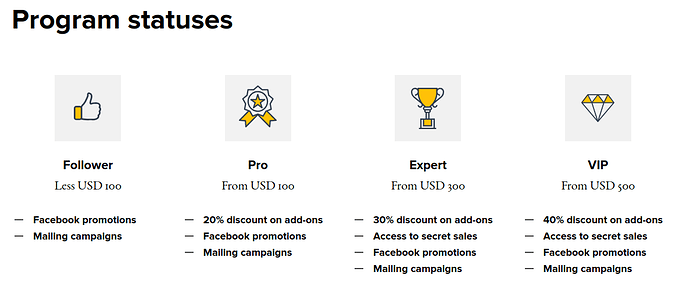 Once a new add-on is launched, we make a post on Facebook about it. The post contains the link to the product page and the promo code. The promo code allows to buy the add-on with a 50% discount within the first 24 hours after the release. During this period the product page can be accessed only by following the given link.
Mailing campaigns
Each month we send out the changelog for Simtech Development add-ons. It contains information about the changes implemented within the previous month and the newly released add-ons. Usually we make a special offer to our customers. Be sure to look out for our changelogs.
Access to secret sales
Get access to exclusive offers and promotions to our members. From time to time we will hold special add-on sales available only to Expert and VIP members.
Priority in technical support
VIP members' requests about the add-ons (their functionality, installation process, compatibility, etc.) have the highest priority and answered in the first place.
Discounts on add-ons and themes
The discount on Simtech Development add-ons and themes depends on the program status. The higher the status, the bigger discount. You can get up to 40% off.
You are welcome to join in!