Hi guys
Got a website that running pre 4.10 - so still using Option Combination and Allowed Combinations.
I have over 45 products that each have around 10+ options each.
Only 2 of the options (shed size and airtech base) need to be configured to either allow or no depending on the size.
Everything else is universal and always allowed.
seen screenshot -----> [url=https://postimg.cc/sM347ssZ]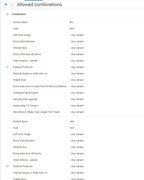 [/url]

Setting this up like this is very time consuming and I've got a lot of products to setup.

What is the quickest way to get this done? Thanks