EZ Merchant Solutions is pleased to announce our latest addon EZ Buy One Gift One at a special introductory price of $49.99USD for the next 30 days. After that, price will increase to $69.99.
Similar to the familiar Buy One Get One Free type of marketing, the Buy One Gift One will bring customer back to your site where the odds of them purchasing additional products is much higher.
The addon works by defining specific BOGO Plans. A BOGO Plan can contain one or more specified products or category of products.
For each product in the plan (or products within a category), a gift certificate will be sent to the recipient for the amount of the products purchased that are in that plan (multiple coupons will be sent if products from multiple plans are purchased). The recipient can then purchase any product in the plan (or product from a category within the plan) and have the coupon amount applied as a cart discount.
Reporting on usage is also available based on the orders where a BOGO coupon has been issued.
A customer can "Gift" to themselves or someone else. A pop-up is provided to designate the recipients name, email address and an optional message to be included in the email sent.
Key Features:
Setup one or more BOGO plans that are active simultaneously
Turn plans on/off as your needs change
Plans can expire on a specified date (I.e. coupon must be used by)
Custom email templates per-plan if desired
User pop-up when landing on a page where BOGO is active (product or category). Once set, will not reappear but can be changed in checkout. Each category/product that has BOGO plan enabled will have a header showing that the product/category is eligible for Buy One Gift One.
Product details can be seen here.
And the marketplace (once approved) should be available here.
A few screenshots follow.
Customer email received from BOGO usage.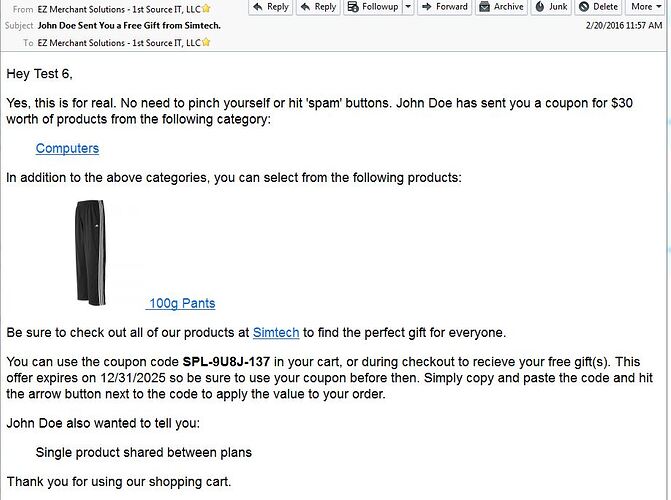 Customer assignment of BOGO purchases to a recipient: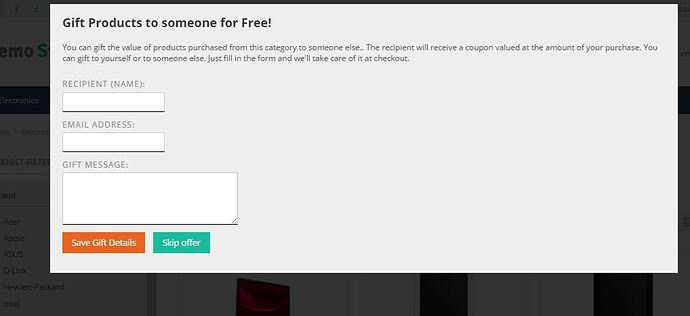 Admin listing of plan products: