Hi!



The CS-Cart team is proud to present CS-Cart 4.2.1 Release Candidate. This is the first release in the upcoming major 4.2.x branch.



Feel free to download and test the new release using this [size=4][color=#0000A0]download link[/color][/size]. Please share any kind of feedback including bug reports in the [size=4][color=#0000A0]bug tracker for v4.2.1RC[/color][/size].



Note that this is not the final version, and it's not intended for production use. There will be no update available for this Release Candidate to upgrade it to the final 4.2.1 either.





[size=5]Features[/size]

Here are the main features of CS-Cart 4.2.1 RC:[list]

[]Contact list synchronization with the MailChimp and Mad Mimi e-mail marketing services.



We've added a special Email marketing add-on that lets you sync your store subscriber lists with your MailChimp or Mad Mimi account.

[/list][list]

[]SEO improvements, namely support of 301-status redirects, Google's rich snippets, and canonical URLs.



HTTP 301 status stands for Moved Permanently and tells the browser to immediately redirect the user to the new location. Now you can safely move or rename a product or category, CS-Cart will keep the old URL alive and take care of seamlessly redirecting your customers to the new location.



Google introduced rich snippets to allow websites show useful information right in the search result list. In CS-Cart 4.2.1, we've extended the SEO add-on to automatically turn your store pages into proper Google rich snippets.



URL normalization, or canonicalization, is a process of making URLs consistent with a certain standard. It helps eliminate duplicate URLs pointing to the same location. In CS-Cart 4.2.1, URLs are normalized automatically.

[/list][list]

[]Responsive theme has been set as default. Also there are two new styles for it.



The Responsive theme allows CS-Cart stores to look awesome on all screen sizes, and we're happy to offer more variety in storefront appearance.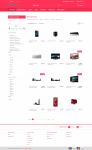 [/list][list]

[]New translation service.



We've moved from our own GlotPress-based system to the popular Crowdin service. It provides a much more convenient interface for translators and is trusted by major players like Microsoft and Reddit.



As for now, you can download the latest translations for CS-Cart 4.2.1 from http://translate.cs-cart.com, but we plan to make the langpacks downloadable directly from the CS-Cart admin panel.

[/list]