This post was updated on Nov. 26, 2020.

Friends, our Power Pop-up Notifications add-on was updated to version 2.5!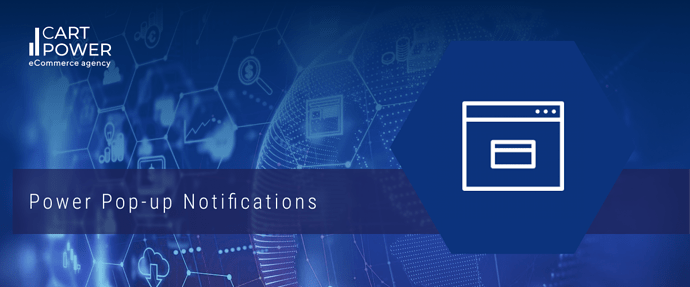 Pop-up notifications add-on is a powerful marketing tool that solves the problem of informing customers about news, offers, promotions or policies, increases sales and quality of your customer service.
What Problems Does the Pop-up Notifications Add-on Solve?

Get More Newsletter Subscribers
A pop-up offering to subscribe for getting your promotion notifications, news or special offers will help to enlarge the contact base of loyal customers.
Increase Conversion
Customize the pop-up conditions to show relevant special offers in the right place, to the right audience, at the right time. Use pop-ups to lead customers through the sales funnel and increase the conversion.
Draw Users' Attention to the Important Information
For example, to notify a customer about a store's privacy policy, you can create a pop-up with the text of the policy and the Accept / Decline buttons.
Bring the Leaving Customer Back to Your Store and Reduce the Bounce Rate
The exit pop-ups is an established lead generation tool. This is the last attempt to catch your customers on exit and get contacts for further marketing touches. Offer a discount, bonus, or gift in exchange for Email, or simply display products that might be of interest to your client.
Better Score in Google for Time on Site and Pages/Visit
Display colorful images, text or posts from your blog in a popup on any page in your store to engage shoppers and increase time they spend on your site and the number of pages they visit.
Compliance With Legislation
Comply with the GDPR requirements and notify users about the collection and processing of personal data or request confirmation of the user's age if your store has some age restrictions.
Add-on Features:
- Choose the location for pop-up notification: everywhere, all or specific product pages, all or specific categories, all or specific pages, home page, search page, cart page, checkout page, checkout complete page, sales, bestsellers, new arrivals, brands, all or specific blog posts.
- Pop-up targeting by country, user group or even certain registered customers from the list.
- Choose the content to display in the pop-up (HTML editor, SMARTY editor, Product, Page, Blog post , Subscription form, Terms and Conditions, Age verification).
- Create pop-ups with the "Accept / Decline" button.
- Show/hide the pop-up title.
- Configurable position of the pop-up on the screen (9 options).
- Customizable margin and padding.
- Customizable width and height of the pop-up window, or adaptation to the size of the content.
- 28 pop-up animation effects. The animation speed can be adjusted.
- Set the delay to show the pop-up.
- Show the pop-up on the page scroll.
- Set TTL (Time To Live before the notification is shown again).
- Show pop-up once per session.
- Close the pop-up automatically after the set time interval overs.
- Ability to block main content.
- Show on exit pop-up when the user is trying to close the page.
- Priorities for displaying notifications.
- Ability to disable all other pop-ups (highest priority).
- Availability period.
------
Demo:
------
Compatibility:
Version 1.0 is compatible with CS-Cart/ Multi-Vendor 4.3.1 - 4.9.3
Version 2.5 is compatible with CS-Cart/ Multi-Vendor 4.10.1 - 4.11.x
-----
Buy Now:
Power Pop-up Notifications for CS-Cart
------
Support
Learn more in add-on documentation.
Need modifications or any assistance? Please, feel free to contact us via HelpDesk system.
---
Upgrades
6 months of the free upgrade period included.
---
Works correctly with the popular themesYOUPI and UniTheme.