Dear Friends,

We would like to introduce you our new add-on: Orders Feedback.

CS-Cart "Orders feedback" add-on is used for automatic sending e-mails to customers who placed an order in the store. The store administrator can create the template of the e-mail, set the reminder time and choose order statuses. The administrator can create as many templates as he/she wants. It is necessary to add the special command to the Cron table (the example is in the add-on setting) to organize the automatic sending.
If you select the old e-mail templates mode in the store settings, then the "Leave reviews on one page" button will be available in e-mail, which leads to a page where the buyer can leave feedback on all purchased products.

General features:
ability to create any amount of different feedbacks
ability to set different periods for each feedback
ability to choose orders statuses for each feedback
ability to use placeholders in text of feedback such as: %Customer firstname%, %Customer lastname%, %Order ID%, %Company name%, %Company phone%, %Company address%, %Products block%
ability to use "Test mode" and see what e-mails will receive your customers
ability to send notification to leave a review, even if product has no comments enabled
Add-on settings: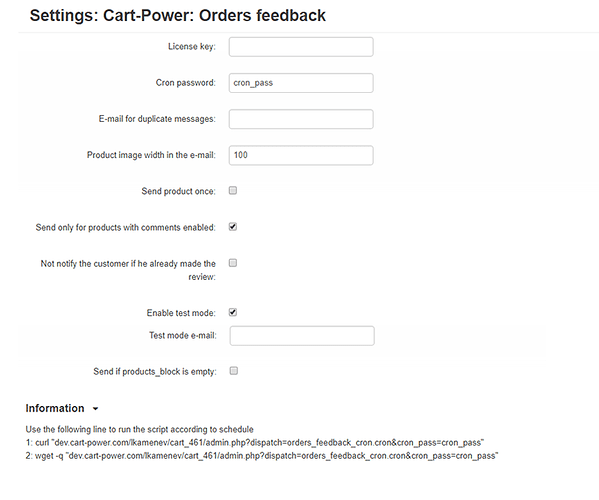 Orders feedback:




Editing feedback:




New and old templates mode: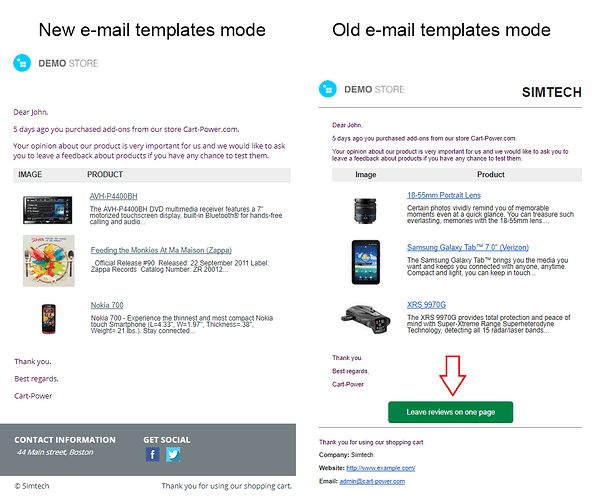 Add-on is compatible with 3.0.x - 4.9.x

New product price is $15 (insted of $39).

Official product page is here.
Do not hesitate to contact us if you have any questions.