Over the past month or so EZ Merchant Solutions has been busy researching and developing a new addon that will do [color=#ff0000]fraud detection[/color] in advance of order placement. The goal is to reduce or [color=#ff0000]prevent charge-backs [/color]and to provide you a way to "score" your orders before they are submitted to your payment processor.



We are looking for a couple of beta testers who can help us validate functionality and provide feedback on useability. We are looking for 2 beta test merchants (one in the USA and one in Europe or elsewhere) who:[list]

[]Run a reasonably active store (over 100 orders/month)

[]Support both registered and anonymous checkout

[]Are familiar with merchant fraud (either academically or vie real experience)

[]Can provide clear and concise communication in English

[]Can review documentation in English

[]If you've been bitten by order fraud in the past, then that is a definite plus

[/list]

Please send a PM for email address (or directly if you already have it) and we can go into more detail. I have some incomplete documentation available now and can answer any questions you might have.



If you can help, I can certainly ensure that your site is protected into the future.



A couple of screen shots follow along with a blurb about why fraud detection is important.



[size=5]Admin order details page:[/size]



[size=5]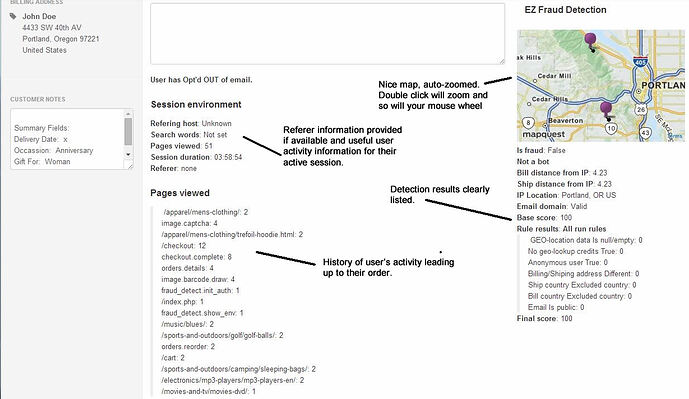 [/size]
[size=5]
The Rules management page:
[/size]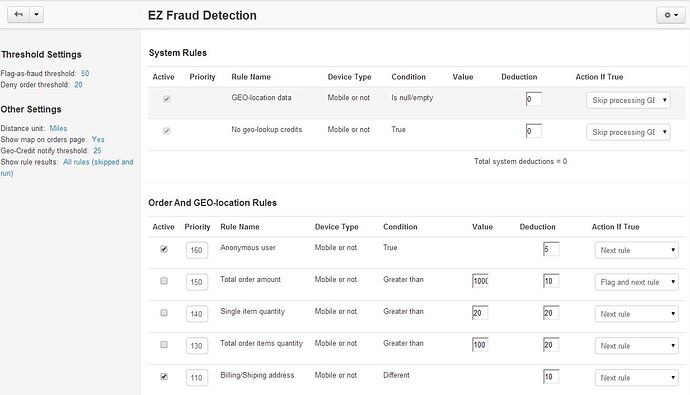 [size=6]
Why do you need fraud detection services?
[/size]
According to the 13th annual CyberSource Online Fraud Report, U.S. merchants lost an estimated $3.4 billion to fraud in 2011. Much of this was related to payment fraud, but a significant amount could have been avoided using "pre order placement" detection techniques.
Pre order placement detection consists of a number of key factors that when combined together give a merchant a profile of the order request characteristics. This addon will automate that process and provide the results in a clear and consistent manner. Thresholds can be established to flag an order as possible fraud and/or to prevent a suspicious order from being submitted. (I.e. denying access to the user).
In online order fraud, it is the merchant who draws the short straw. The consumer (owner of a stolen credit card) is protected and the credit card companies protect themselves by doing charge-backs to the merchant to recover fraudulently used funds. Unfortunately, it is up to the merchant to recover their products (which is usually not possible) and or absorb the losses.
A typical situation might be a merchant who sells electronic equipment. Someone orders a $100 device using a stolen credit card (but the card processor is not aware of it yet). The merchant receives the authorization from the processor and ships the goods to the shipping address. Later in the month, the processor notifies the merchant that the credit card used was stolen and that they have been charged back the amount of the order. The merchant is now out the funds and the products!
The above might have been avoided by looking at various characteristics of the order to determine its validity. For example, are the billing and shipping addressed different? Are they in different countries? Is the IP location more than 50 miles from the billing address? Is the email domain used a public email domain such as yahoo, hotmail or gmail? Each of these type of characteristics is a fraud. Usually when one or two are true the order is not a fraud. But when several of these types of characteristics all occur together, then a fraudulent situation is likely.
Fraud detection services should be thought of as insurance. I.e. it may not pay out often, but when it does, it is usually well worth the cost of the insurance.