Dear CS-Cart Users,

Your customers' reviews can become key to boosting your sales!

You are welcome to inspect our new add-on for CS-Cart platform.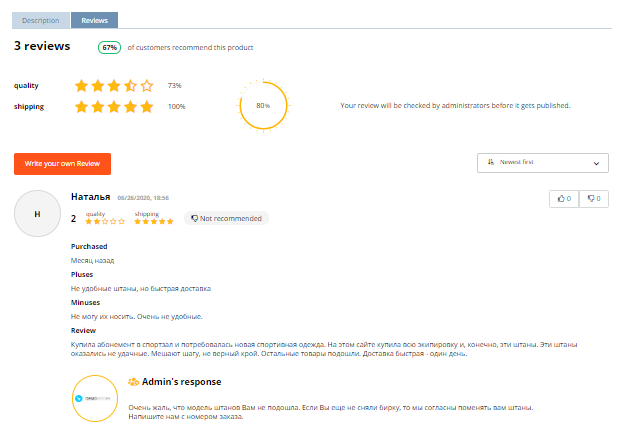 This add-on totally changes the default Comments and Reviews functionality.

The add-on's price is USD 59

With Advanced Product Reviews module, the product reviews will be more informative, more attractive and more useful for the potential buyer.

Simple and friendly user interface
Our developer significantly redesigned the product reviews block and made it easy to transform the styles by admin in the back-end. The store admin is able to change any colors of the reviews' elements.

Review summaries
Users can evaluate the usefulness and quality of the product of their interest almost instantly by viewing its general review rating and more detailed one split by stars and the percentage of customers who recommended it in the 'Reviews' tab on product pages.

Review Helpfulness Voting
With the special section near each review, users can evaluate review helpfulness by marking it as helpful (with the 'thumb up' icon) or not helpful (the 'thumb down' icon, respectively).

Badges for Real Customers
The badge "Real Customer" is automatically assigned to customers, who bought this product, signed in and left a feed back.

Administrator's response
The store admin has a possibility to answer to each product feedback. The admin's answer is visually marked and has a store logo.

More add-on's details.

If you have any questions, you are happy to answer.

Best regards,
Alt-team.