Hello
We present new addon for CS-Cart and Multi-Vendor allows you to give discounts on products in a particular category.
First we install addon: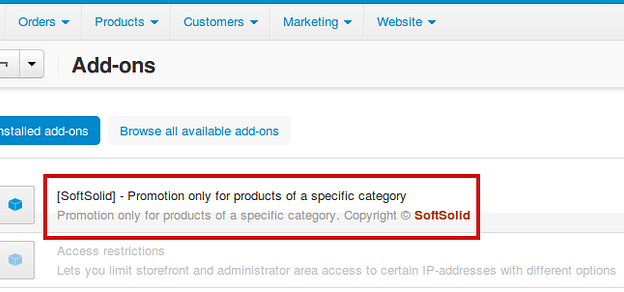 Next we configure promotion, set up conditions for amount of products in category or for subtotal of products in category. We also set up condition for categories that promotion uses:
Next we set up discounts and categories (they should be the same as in promotion conditons)
During shopping, system checks if cart contains defined amount of products from category and if conditions will be met, a discount will be given for products from category.
The second possibility is checking how high is value of products from category in cart that is set in conditions, and discount will be given in conditions are met.
Conditions from this promotion can be used seperately or simultaneously.
Features:
no core file changes
compatibility with 4.0.x, 4.1.x, 4.2.x, 4.3.x, 4.4.x
Cost is $99.

Please, do not hesitate contact us if you have any additional questions.
Link to addon
See our other addons in Marketplace.

Regards
Robert Diak