EZ Merchant Solutions would like to announce our latest V4 addon EZ Product Promotions.

Do you sell products on consignment? Do you sell digital products where the author (artist, photographer, developer, designer, etc.) would like a commission on sales?

Then this addon is for you. You can now easily setup and manage commissions on sales.

You can report on current earnings by affiliate (what we call the person receiving commission) earnings, generate detail reports for various periods as well as Update the tracking to show when you've made payment to an affiliate.

Features:
Setup commissions on individual products
Setup commissions for all products within a category (or products within sub-categories)
Optionally setup/enable a default commission to be used when no other commissions apply.
Report on products/categories that are using commissions.
Report on sales filtered by a variety of search criteria.
Mark transactions paid for the prior month to make current reporting more manageable.
Product details: www.ez-ms.com/product_commissions.html
Documentation: product_commissions.pdf
Marketplace: http://marketplace.cs-cart.com/add-ons/site-management/product-commissions.html
A few screenshots follow:

The manage page is very straight-forward and shows current affiliates, their commission rates and links to other operations.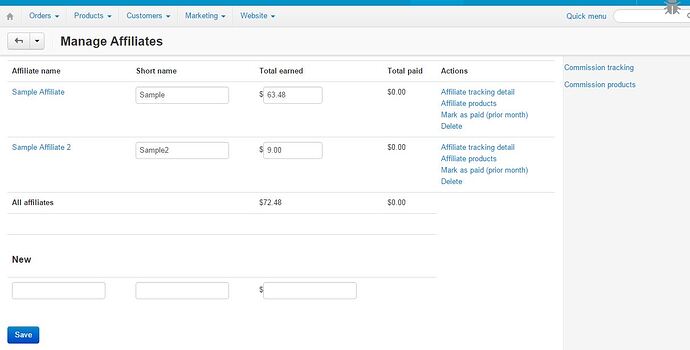 This view shows a listing of the products and categories that have specific commissions set. Note the default setting in the lower right. As your affiliates grow, you can search by affiliate name (subset), select affiliates from drop-down, or by the commission rate.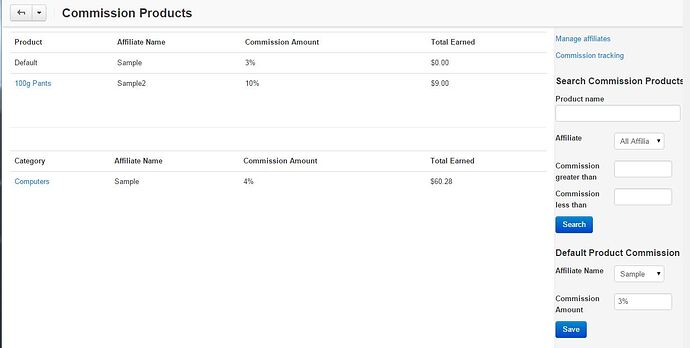 Tracking can also be filtered by search. In addition to showing what the commissions are for each commissioned product in an order, the origin of the commission is also shown.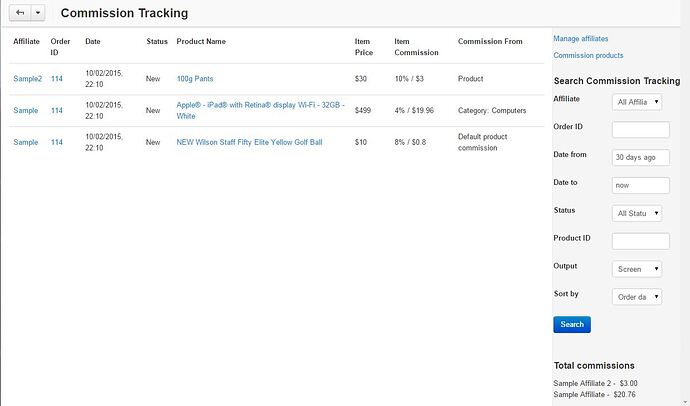 Current V4 Addons available from EZ Merchant Solutions
(documenation link in Attachments tabs)
Compatibility of versions and addons from EZ Merchant Solutions can be found at: our
Compatibility Table
.
EZ Auto Mailer - Schedule/send followup emails
EZ Bulk Status Change - Change order status enmass
EZ Checkout Summary Fields - Add custom fields to checkout process
EZ Email Logging - Log all emails sent
EZ Admin Helper - Automate common admin tasks
EZ Group Minimum Orders - Specify minimum order amount by group
EZ License Key Manager - Manage license keys
EZ Mailchimp Integration - More than just a list manager
EZ Manage Discounts - Manage discounts for selected products
EZ Mystery Coupon - Generate mystery coupons for customer use
EZ Authorize.net Payment Capture - Capture AUTH_ONLY payments
EZ Promotional Banners - Display promotional banners
EZ Product Commissions - Manage product commissions
EZ Status History - Show status change history on order detail page