Dear Friends,
We have developed the Two Factor Authentication by Google add-on that helps you to protect your store from unauthorized access to the admin panel.
Two-factor authentication provides a two-step verification procedure using time-based one-time passcodes. It is implemented for the store administrators and is available for iOS, Android and BlackBerry.
The add-on provides a stronger security for your store by requiring a second step of authentication for administrators. In addition to the password, the admin will need a code generated by Google Authenticator application.
This extra security measure will make you feel more safe about the store data as Google states that no fraud will cope with this 2-factor verification.
Apple, Facebook, Amazon, Twitter, Microsoft have already got it. Just join the list of secured sites. For more examples, please visit https://twofactorauth.org/ .
How it works
Start authorizing in the store
Receive a notification with a passcode
Enter the received passcode in the store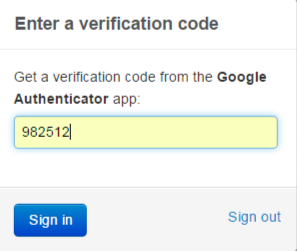 Authorization is successful
Setting up
1.Install the add-on in your CS-Cart store
2. Enable two factor authentication in the Admin panel - > Settings - > Security settings
3. Go to the Admin Panel -> Edit profile -> Two factor authentication
4. Download the application on your mobile device
5. In the app, set up an account with the same login email as you use in your CS-Cart store
6. Scan the barcode from the store admin panel
What you will see in the admin panel of the store
The CS-Cart security settings
The Editing profile page
What you will see in the mobile app
User Guide
Learn more about the add-on in the User Guide.
Compatibility
The add-on is compatible with CS-Cart and Multi-Vendor 4.3.1 and above. Need compatibility with another CS-Cart version? Contact us.
I will be glad to answer all your questions about the add-on.
P.S. Do not forget to join us on Facebook to be the first to know about free solutions for your store!