Dear Friends,
We have developed the Stripe Connect add-on for Multi-Vendor web stores which enables you to accept main credit cards worldwide, automatically split payments to several vendors and save sensitive credit card information in Stripe.
Features:
— Provide sellers with split payment in your Marketplace.
— Accept main credit cards worldwide: Visa, MasterCard, American Express, Discover, JCB and other credit cards for payment from buyers.
— Allow customers to save credit cards for future purchases. No card details are stored in your database and isfully PCI Compliant.
— Increase conversions by making it easier for your customers to pass the checkout faster and pay successfully.
What your vendors need to do
If your vendor wants to accept payments via Stripe Connect, they also must get a Stripe account on the official website. The vendor doesn't need to search the website because after clicking the Add account button they will be redirected to the page automatically. The vendor should fill in the registration form and create an account. If everything is correct, the vendor will be redirected back to the Profile page. There, they will see their Stripe vendor ID.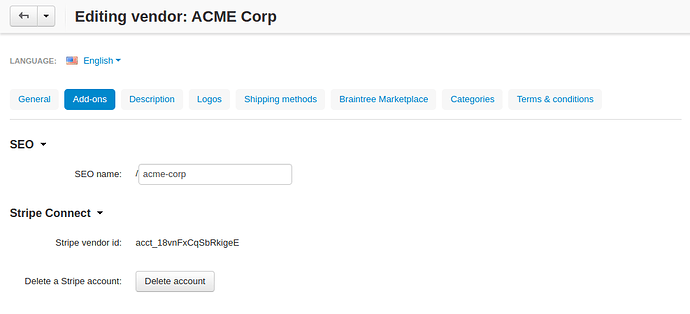 What the customers will see
The payments made by the customers are transferred directly to the vendors and then the admin of the store gets a fee from each payment.
If there are products of several vendors in the customer's cart, the whole cart will be split into several cases by vendors and the whole order will be paid in several steps. Look at the screenshot below to see how it works.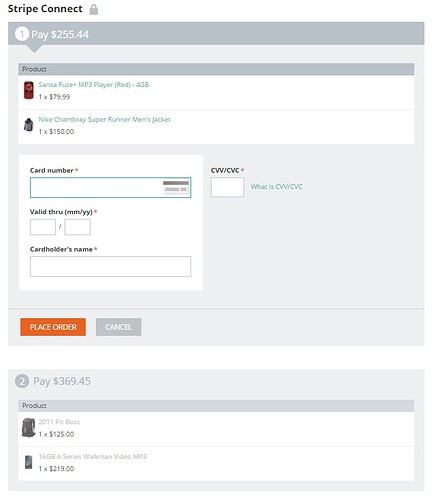 After successful payment of the first case with products the customer will be suggested to pay the rest products.
The add-on automatically calculates the amount of money that should be transferred to the vendors for their products in the order.
User Guide
Learn more about the add-on in the User Guide.
Compatibility
The add-on is compatible with Multi-Vendor 4.3.7 and above.
I will be glad to answer all your questions about the add-on.
P.S. Within several days after the post publication on Facebook you have a chance to get our add-ons for free! So, if you join us on Facebook, you will have a chance to be the first to know about free solutions for your store and information about special promotions and discount promo codes.