Hello,
We are glad to inform you that we have developed the Show Me More add-on that uses the same technology as the newsfeeds in order to entice your customers to view more and more items in your store.
The more your customers view, the higher their interest in your products. It has never been faster to reduce the bounce rate and increase the conversion as it is now, with the Show me more add-on.
Key Features
— Automatic (Ajax) upload of products on the category page and search page. The add-on allows you to show an infinite number of products on one page, in a block or search results. Your customer simply scrolls down and the results are uploaded automatically.
— Admin-defined setting to load more products by scrolling down or by clicking the Show more button.
— Show more button for the Hot Deals and On Sale product blocks. By default, your customers see 8 items; if they click Show more, 8 more items are shown.
— Attractive Vendors block with the Show more button for Multi-Vendor stores.
How it works
You install the add-on and create blocks with the Show more option.
These could be:
— products;
— vendors;
— search results.
On the settings page you need to specify how many items you would like to show and how the customer can see more variants — by scrolling down or clicking the Show more button.
What your customers will see
The show more button
The infinite scrolling
Show more vendors block for Multi-Vendor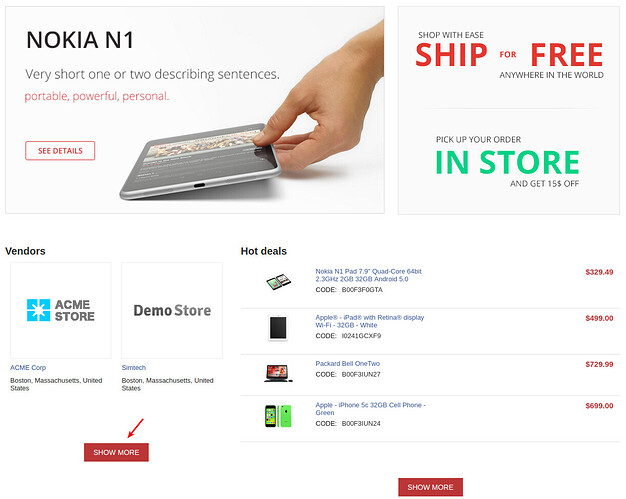 User Guide
Learn more about the add-on in the User Guide.
Compatibility
The add-on is compatible with CS-Cart and Multi-Vendor 4.3.9 and above.
I will be glad to answer all your questions about the add-on.
P.S. Do not forget to join us on Facebook to be the first to know about free solutions for your store!