Dear Friends,
I am glad to present you the Shipping Estimate add-on. It allows to display a shipping fee estimation block on the product page so that the user or customer can check/find out the shipping fee.
If shipping costs and options are made completely transparent as early as possible in the customer journey, this will certainly prevent a lot of unpleasant surprises and abandoned carts.
The CS-Cart Shipping estimate add-on lets you add information about Estimated delivery time, Shipping cost of each Transport company available in your store to keep customers informed as to how long each shipping method takes to ship an order and how much it costs.
The add-on enables you to automatically show the cheapest shipping method right on the product page.
The add-on is totally compatible with our IP Geolocation by MaxMind and Geolocation by Google add-ons. Enable geolocation feature to determine customer's location and set up shipping methods for places you ship to. These geolocation extensions for CS-Cart will automatically determine the current location of a customer and suggest proper shipping methods.
How it works
As we mentioned above, the Shipping estimate add-on is compatible with IP Geolocation by MaxMind and Geolocation by Google add-ons. If you do not have these extensions, the location of the user will be taken from the user's profile. This means that if the customer has not filled in the billing address or checkouts as a guest, they will not see a block with the shipping estimate.
Below, you will see an example how it works with the Geolocation by Google add-on. The Shipping estimate add-on takes the data from Google Geolocation and displays the cheapest shipping method for customer's location.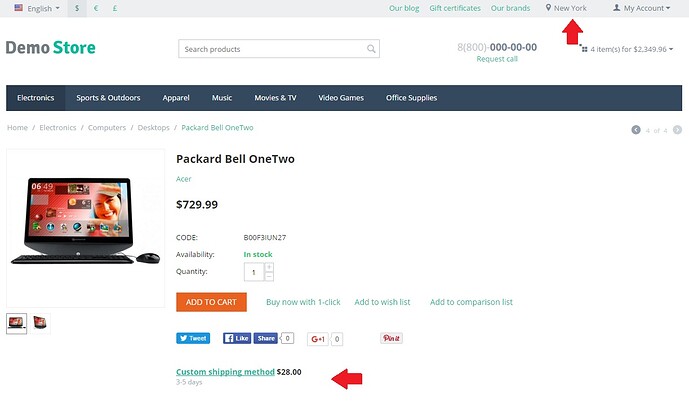 On the settings page of the add-on, you will see the ability to select the position (on the right, at the bottom or not display) of the block with the shipping estimate on the product page. Besides, you can select if the delivery period will be shown in the block.
Below, you will see how it looks at the bottom of a product details page.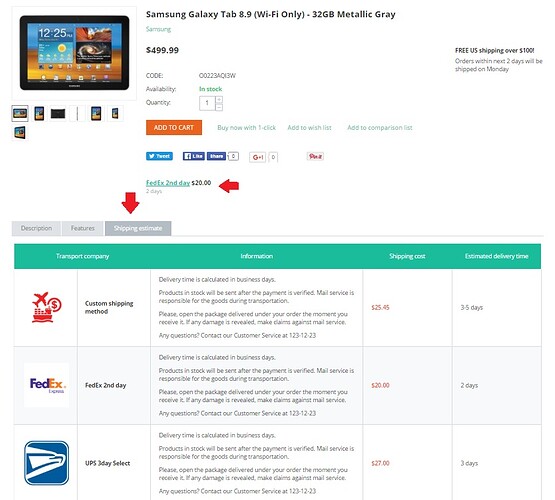 User Guide
Learn more about the add-on in the User Guide.
Compatibility
The add-on is compatible with CS-Cart and Multi-Vendor 4.3.2 and above. Need compatibility with another CS-Cart version? Contact us.
I will be glad to answer all your questions about the add-on.
P.S. Do not forget to join us on Facebook to be the first to know about great solutions for your store!