Dear Friends,
Do you know which of your products customers like the most? Let them show it! The Product Likes add-on automatically counts the number of product likes and shows under the product image.
The extension adds a Like button for the product images. It allows your customers and you to see the preference of the visitors of your web store. The customer can see their likes on the My account page. Additionally, you can create blocks for the most liked products and filters for them.
Key features
— Like button below the product image
— My likes page in the My account area
— Most liked products block
— Most liked products sorting
— Automatic likes count with a CRON script
What your customers will see
The Like button in a block
The Like button on the product details page
The My likes page
The filter by likes
What you will see in the admin area
The Product Likes add-on will also help you make stock decisions by knowing user preferences of certain products in your store. You can see Likes count on the product list page and sort products by this parameter: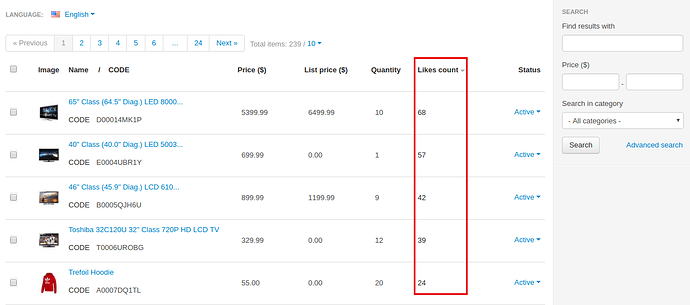 User Guide
Learn more about the add-on in the User Guide.
Compatibility
The add-on is compatible with CS-Cart and Multi-Vendor 4.3.1 and above. Need compatibility with another CS-Cart version? Contact us.
I will be glad to answer all your questions about the add-on.