Dear Friends,
Do you know how to improve the shopping experience of your customers and wholesalers with just a single add-on? We have a great solution which will help you — the Product Combinations Table add-on!
This add-on creates a combinations table on each product page (of course only for products which contain combinations) and displays all available combinations of attributes.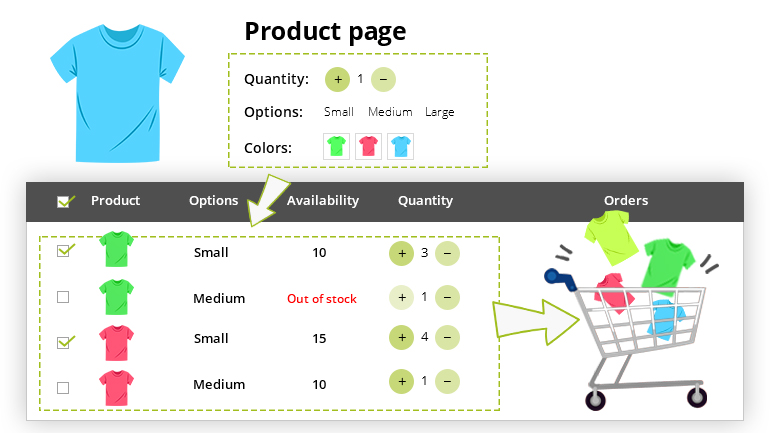 Your customers will see the available variants of the product in a detailed table, quickly tick the item or items they need and proceed to checkout more quickly.
Buyers who purchase large quantity of goods will be pleased to buy more quickly and easily from a special quick order page.
So, it is a great tool to improve not only usual customer experience but also wholesaler experience.
Benefits for Customers and Wholesalers
With the help of this add-on your customers are able to:
— order products in bulk quickly without visiting each product page;
— purchase products quickly via a special page;
— see all combinations in a much readable way than standard selection dropdowns;
— add multiple products to cart at once without visiting each product page to order;
— quickly search for available products;
— automatically calculate the number of products before adding to cart;
— update the number of goods without viewing the cart.
The main functionality of the add-on is available in the My Account → Product combinations table menu. You may prefer to make the Product Combinations Table available to all the visitors of your online store, or define a particular group on the settings page.
This add-on displays all available combinations of attributes with the most essential information about products: Options, Availability, Quantity and Cost.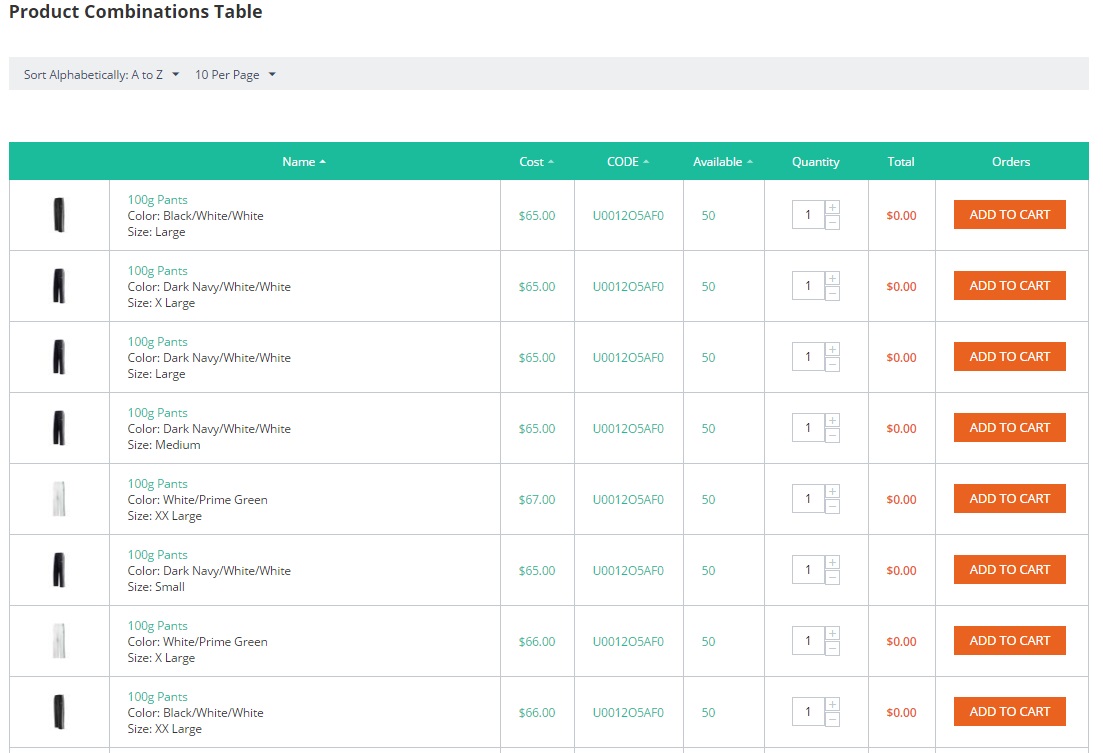 The products in the table can be sorted by columns or by the following parameters:
All combinations for a specific product are available on the product page.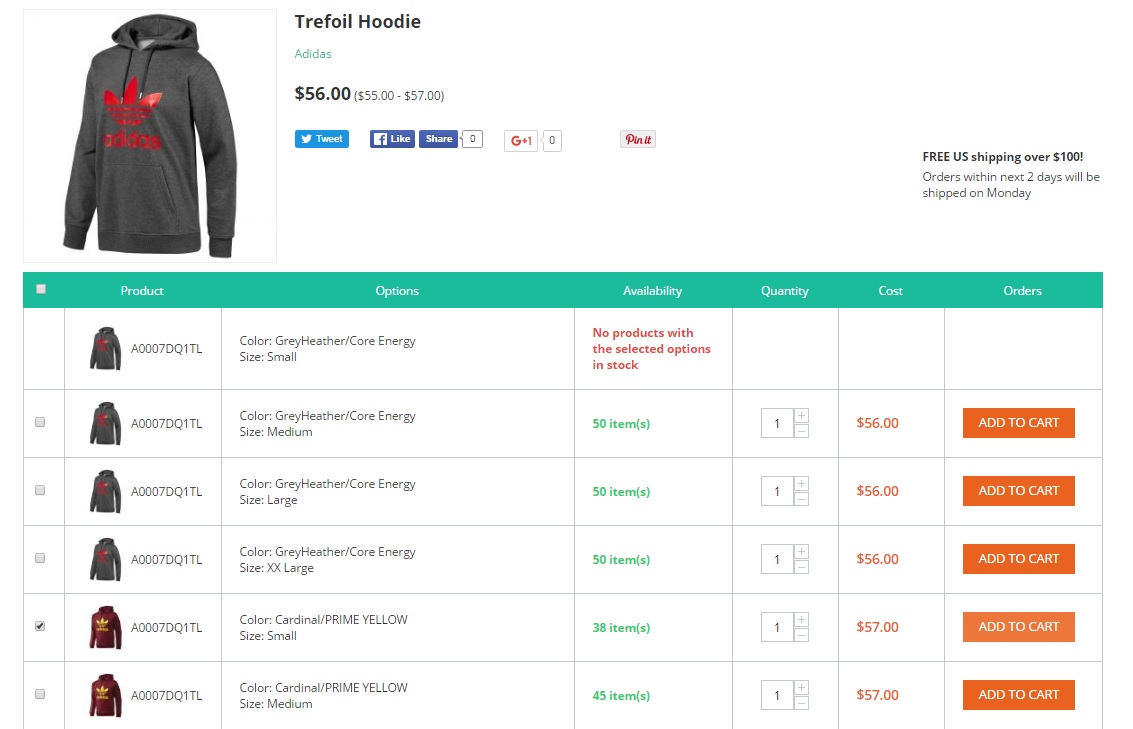 If the customer suddenly realizes that they have added a wrong number of products, they can change it without viewing the cart.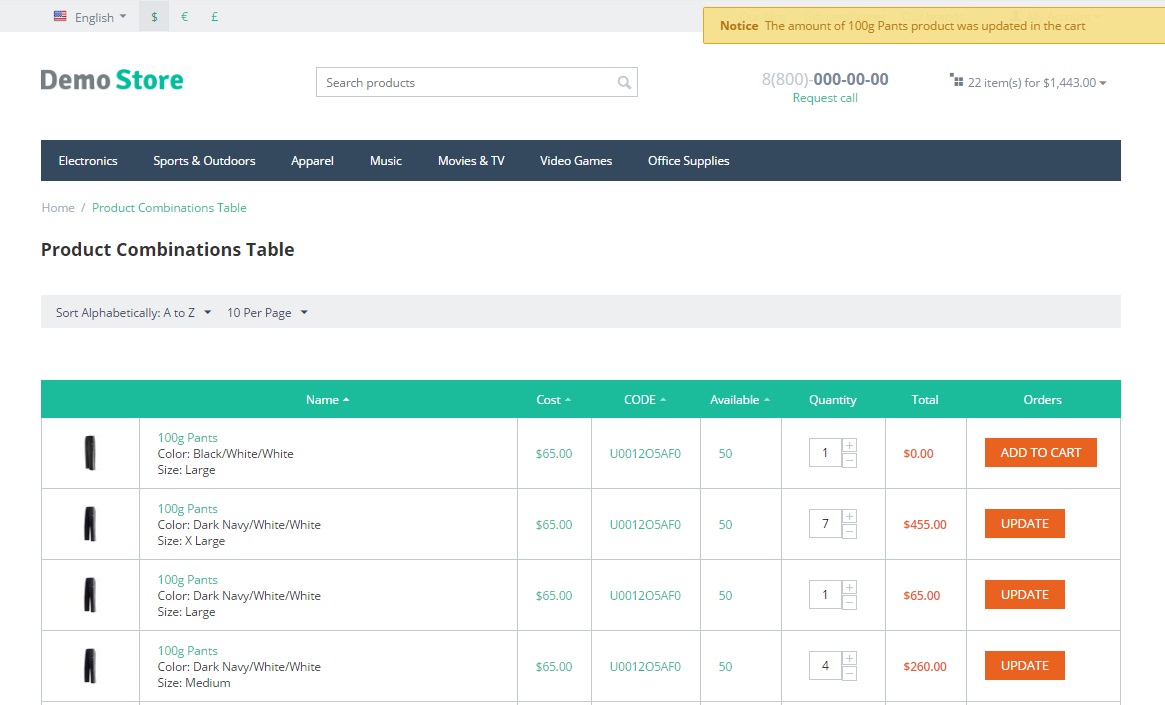 So, the add-on is suitable for all online stores with the extensive choice of product options, as well as for the stores who work with the wholesalers.
The add-on is compatible with CS-Cart 4.3.6 and above.
User Guide
Please, read the
User Guide
to learn more about the add-on.
Do you have any questions? Please ask me in comments below.