Dear Friends,
We have developed the Pay with Amazon add-on that allows you to provide the recognized payment method trusted worldwide. Amazon is one of the most famous online retailers with more than 300 million active customer accounts.
Amazon Pay option makes your customers extremely pleased with their seamless purchasing experience. As now they can log in and buy in your online store using their Amazon account information. The store users just choose a product, click the Amazon Pay button and pay the order. They do not have to enter payment or shipping information. It is taken from their Amazon accounts.
The payment process is embedded into the checkout page. The customers do not have to leave your store to complete the order. So you keep your branded checkout and benefit from Amazon Pay popularity at the same time.
Please note that integration with Amazon Pay is available only for merchants registered in USA with an EIN issued by the IRS.
Key features
- Login with Amazon data;
- One familiar login to identify and transact;
- Seamless and trusted way to checkout without leaving your store;
- Amazon Pay button on the product details page and the cart contents page;
- Look-and-feel options for the Amazon Pay button.
What your customers will see
Product details page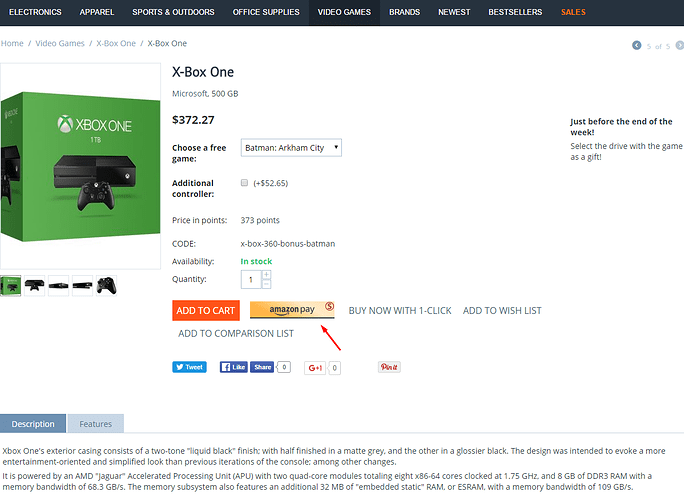 Cart contents page
Amazon checkout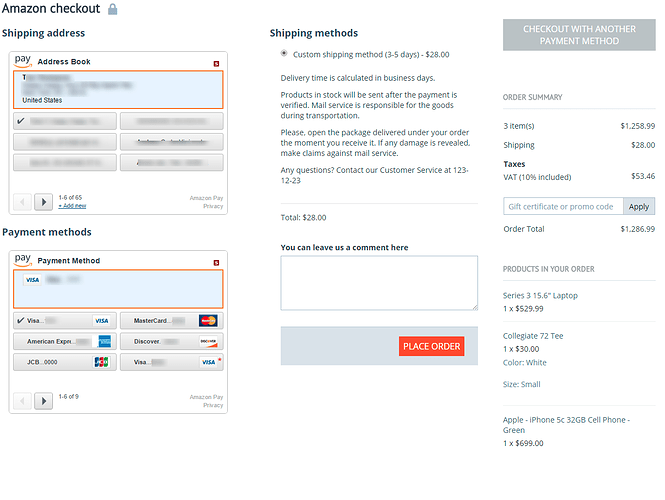 User Guide
Learn more about the add-on in the User Guide.
Compatibility
The add-on is compatible with CS-Cart and Multi-Vendor 4.3.1 and above. Need compatibility with another CS-Cart version? Contact us.
I will be glad to answer all your questions about the add-on.
P.S. Do not forget to join us on Facebook to be the first to know about great solutions for your store!