Dear Friends,
We have developed the Enhanced Social Login add-on that simplifies user log-in incredibly. It reduces the login time and increases customers' satisfaction.
The add-on offers your customers social network login options such as Facebook, Google, and Twitter.
If customers enter the store using the Facebook account for the first time, they get registered. The Facebook and the store accounts are linked. The e-mail, password, name and surname of the Facebook account are copied to the store account for fast authorization in the future.
Key features
- Users can log in/register with their existing social network accounts.
- The add-on can be installed/uninstalled without affecting other features.
- The default sign-in form is still available.
- Catchy social buttons in the pop-up window.
- Social buttons at checkout.
Dependencies
The Enhanced social login add-on works only with the default Social login add-on enabled and the corresponding social providers set up.
What your customers will see in the storefront
Social buttons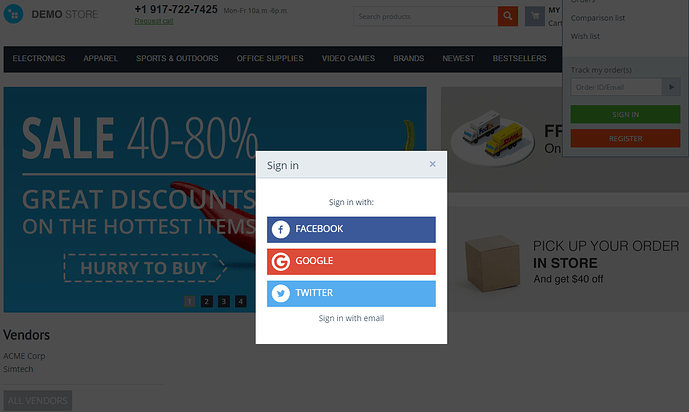 Social buttons at checkout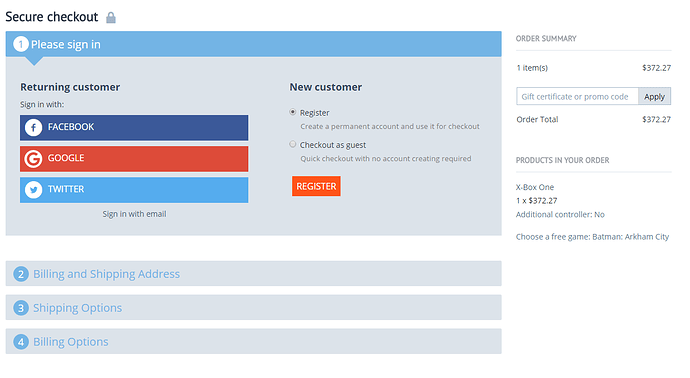 User Guide
Learn more about the add-on in the User Guide.
Compatibility
The add-on is compatible with CS-Cart and Multi-Vendor 4.3.1 and above. Need compatibility with another CS-Cart version? Contact us.
I will be glad to answer all your questions about the add-on.
P.S. Do not forget to join us on Facebook to be the first to know about great solutions for your store!